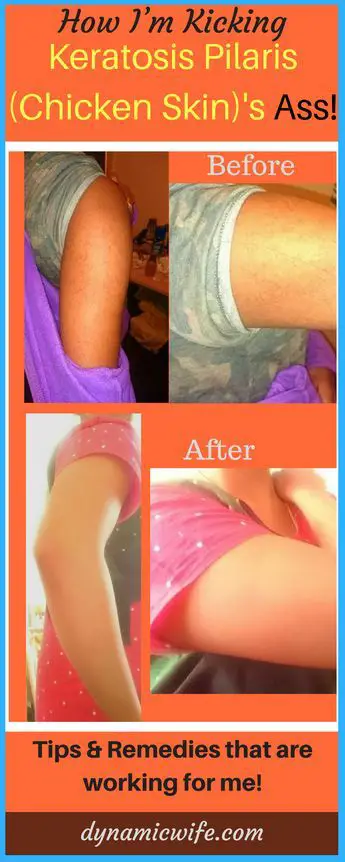 If I had a dollar for every time I landed on a Keratosis Pilaris related article or video, that told me to moisturize and exfoliate to get rid of it, I'd probably be able to save up enough to afford some kind of Hollywood-style treatments for it.
What I really want to hear is how did you treat Keratosis Pilaris? Have you or someone you know tried it?
And has it really worked to get rid of that stubborn chicken skin? What did you or they do to maintain the results?
WHAT YOU WILL GET FROM THIS POST:
Products that truly worked for me to treat KP
Home remedies (some that I invented) to treat it.
I, like millions of other normal human beings, have been suffering from Keratosis Pilaris for the past i don't know exactly how many years (and I'm 25 now).
At first, I thought it was just some hair follicles sticking out because of the cold weather, but, when it decided to stick with me even during summertime, I knew it was something else. I didn't give up my research on it.
After reading 100s of forum posts, product reviews, video testimonies, articles about KP remedies and asking a whole bunch of people about it for months..
These tips and remedies are what have/still are truly working for the stubborn chicken skin (KP) on the back of my arms and butt area.
NO 1: Korean Italy Towel.
Ever heard of this one? I promise you, if you're going to do only one thing to deal with the chicken skin and dead skin cell problem on your body, this towel is a must-have.
Guess how much it costs? Under $14 that's it.You will get 10 pieces of reusable Korean Italy towels from Amazon.
I'm currently using my pink ones!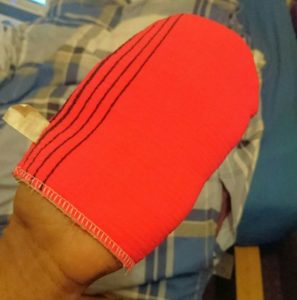 I can't believe it's so cheap for the wonders it does for the skin.
Gosh, I don't know how my current skin would be like without this thing.
These are not the regular exfoliating scrubs or clothes you'd buy from elsewhere, when you exfoliate your skin with this Korean Italy Towel, your years of dead skin will practically roll off.
Like you will literally see the dirty dead skin you've been storing up for years, roll down in your bathtub. and trust me,
And trust me, it will be disgustingly satisfying at the same time.
Warning: Avoid using it for no more than 2-3 times a week, because as mentioned earlier, it ain't like the regular exfoliating towels you'd buy from the shops.
It is powerful and you don't want to end up bruising your skin with over-exfoliation.
And PLEASE be very gentle when using it on your skin.Moisturize with a nice thick body butter after you get out from the bath.

How to use it:
Soak your body in the bathtub filled with warm water for about 15-20 minutes.
Very gently, start scrubbing your body with the Korean towel, starting from your legs in up/down and circular motions. I repeat again, be very gentle not to scrub fast or you will end up making things worse.
You can then wash your body with any mild sensitive skin body wash or soap(optional). I repeat again, use a mild sensitive soap, or don't use soap at all on the days you're using this towel.
Pat dry your skin and apply a nice thick layer of moisturizer all over.
Not recommended for face/neck, especially if you have super sensitive skin.
NO 2: Amlactin baby!
Seriously who did it? Who invented this thing? Amlactin is a PH balanced exfoliating body lotion with 12% lactic acid.
How did Amlactin help with my Keratosis Pilaris?
Well, firstly it has 12% lactic acid, which is the key ingredient in this lotion. Lactic acid is one of the most popular alpha hydroxy acids used in advanced skin care today.
Lactic acid works by deep exfoliating and softening the layers of dead skin on your body. It has a mild peeling effect on the skin as well, so you will be able to tell the difference after every shower.
I got my Amlactin from Amazon. From the first use, my butt and the back of my arms felt so soft like it made a huge difference from day 1.
The chicken skin on my arm and butt looks and feels non-existent every time I use Amlactin.
How to use it: You can apply and massage it all over your body like you would with a regular body lotion, but pay special attention to the chicken skin areas on your body.
Warning: Strictly avoid using Amlactin on days when you use the Korean Italy towel. You don't want to put anything acidic on a freshly (and very deeply) exfoliated skin.
Can you imagine squeezing lemon juice on a fresh wound? Yeah! You DONT want to touch Amlactin right after exfoliating your skin.
SEE ALSO: Better than botox anti-ageing benefits of Rosehip seed oil
NO 3: Homemade body scrub with Himalayan salt, Turmeric, and White rice flour.
I invented this body scrub by accident when I was in India last month. What I was really planning to create is a body scrub with coffee grounds and salt, but coffee wasn't there and I ended up mixing up these ingredients.
To my surprise, I have NEVER EVER tried a homemade body scrub in my life that completely softened the Keratosis Pilaris on my butt and arms from the first use.
From the bottom of my heart, I'm not seeking self-glory here.
Just merely sharing what worked for me and still can't believe how powerful this simple homemade body scrub is for exfoliating the stubborn chicken skin on my body.
This is now my everyday scrub on the days I don't use my Korean Italy towel. See how I keep all the ingredients in separate plastic bottles on the table in my bedroom.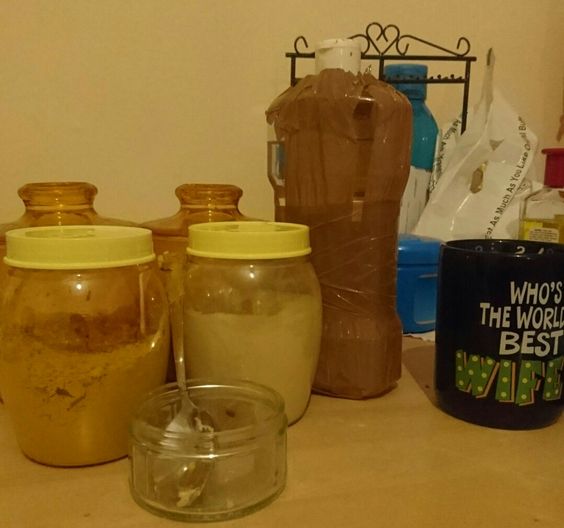 So it's just right there, staring at me every day before I go for a bath. I even keep the small glass bowl and a spoon right here to reduce my lazy excuses for having to go to the kitchen bla bla.
Ingredients needed:
I'd mix all the ingredients up in the small glass bowl almost every day before taking a bath. Simply because I'm in love with the results it gives me even in this freezing cold weather.
Try it for 3-4 days in a row and then come back and tell me how it's working for you, seriously.
The next remedies I'm about to try for my chicken skin are:
NO 4: Pure unrefined Shea butter. (to build collagen)
With all that deep exfoliation and lactic acid lotion, you're not only eliminating dead skin but also the skin's natural moisture and elasticity.
So in order to keep my skin free from dryness and to help build new collagen, I moisturize my body each night with pure unrefined Shea butter. Unrefined means
Unrefined means it's in its purest form, which means much more effective for getting rid of dry skin and build collagen at the same time.
Unrefined Shea butter is quite hard to rub in the winter time, so I add a few drops of Extra virgin olive oil or coconut oil to make it easier to rub all over. Plus we all know those oils have their own bunch of unlimited skin benefits!
My other skin building (collagen) essentials include:
Speaking of collagen, if you want to get rid of age spots, fine lines/wrinkles, and acne scars, you need to read: Better than botox benefits of Rosehip seed oil.
NO 5: Coconut oil + Baking soda
ViI keep reading lots n lots of good things about this one and for some reason, it really seems convincing enough for me to give a try. It's a pretty cool anti-ageing remedy for both face and body.
You'll need:
Mix them into a paste and rub on the rough areas and chicken skin on your body. Rinse off with warm water in the bath after 5 minutes. I've read that you can apply this powerful remedy on your face too, but
I've read that you can apply this powerful remedy on your face too, but you will use teaspoons instead of tablespoons of the ingredients for the face.
Update: I baked my face in coconut oil and baking soda some weeks after publishing this post. Also please read our reviews of Best Body Moisturizers out there.
I will be sure to come here and update on the effectiveness of this remedy once I've tried it.
Do you have KP? What are you doing to treat the rough chicken skin on your body? If you've managed to go gluten-free, please share your diet tips with us!