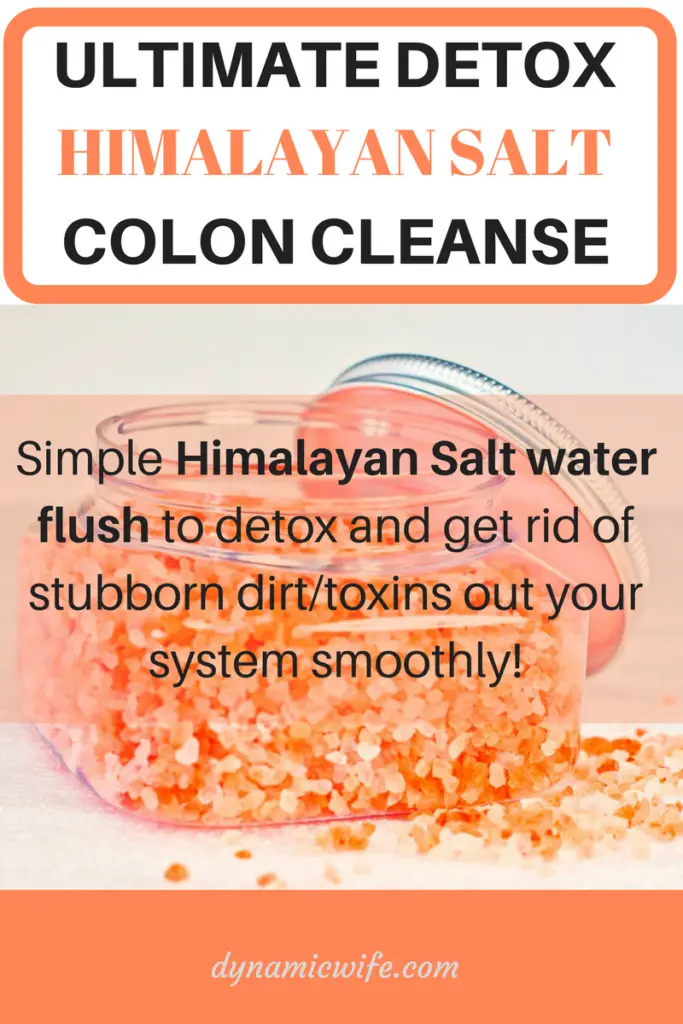 NOTE: Please consult with your doctor or parent, or someone in charge before trying this out. Especially if you are under any serious medications, pregnant or trying to get pregnant. You will (if you do) try it at your own risk.

The salt water flush remedy does have some side effects like vomiting out the salt water right away and some dizziness. You might also feel weak and tired after all that vomiting or pooping. It happened to me, but I was prepared for it after all the research I did prior to doing it, and because of how desperate I was to see the result.
It works like an instant laxative, but one that will bring out all your stubborn and hard to get rid of toxins and dirty stuff out of your colon.
It's seriously an incredible feeling when you try out some home remedy with anticipation, and it actually ends up working! Because many of them are just pure BS out there. I discovered this salt water flush thing some time back when I was searching for my usual weight loss recipes.
For those who don't know what a salt water flush is, it's as simple as mixing 2 teaspoons of unrefined sea salt or Himalayan salt into 1 liter of warm water and drinking it first thing in the morning. The real key, is that you have to try and drink the whole of that 1 liter of warm salt water mixture within 5-10 minutes.
I did mine with this unrefined pink Himalayan salt, because we all know that Himalayan salt is like the queen of all salts out there when it comes to health reasons. Speaking of which, you MUST use unrefined sea salt or Himalayan salt. I will get into this in detail in just a bit.
Let's talk about some of the awesome health benefits of this simple salt water flush (or cleanse) for your body:
Improves bowel health big time– You will literally s**t out all the nasty stuff you never even knew existed in your body for months or years. It will be disgustingly satisfying at the same time.
Better absorption of nutrients
Weight Loss made easier– whatever diet or exercise you try in order to lose weight, it will work more effectively now that your colon is free from all those dirty toxins.
Helps clear fluid retention
Improves digestive health
Balances hormones + much more.
Some things to do before trying out the salt water flush
Take a day off from work, or do it on a day when you're off.
Make sure you can easily access the washroom.
Do it on empty stomach in the morning.
Wear comfortable loose clothes.
Do not do it for more than 5 days in a row. I only did 3 days. It was still worth it.
Ingredients needed for the salt water flush
2

teaspoons of unrefined pink Himalayan salt.
1 liter of hot water (preferably filtered water)
1 tablespoon of fresh lemon juice (optional)
A bottle or mug, and straw to drink it.
How to make it
Warm up 1 liter of filtered water and add the 2 teaspoons of unrefined Himalayan salt to it. Add in the 1-2 tablespoons of fresh lemon juice if preferred. I avoided the lemon juice only because I couldn't find any lemon in the house at that time, but I'm sure it would have tasted less awful. Water should be hot enough, but not boiling. Pour the salt water mixture into a glass jar and close the lid. Shake fast until the salt is fully dissolved.
How to drink it
Open the lid. Put in the straw and start drinking it as fast as possible on empty stomach first thing in the morning. You need to try and drink it within 10 minutes. Also, it won't taste bad when you drink it faster.
What to do after drinking it
Lie down on your right side for about 10-15 minutes until you can no longer hold it in.
WARNING: Once it starts working, you will need to be near the washroom for 1-2 hours. Because you don't know how many times you might need to go.
It's obviously not a pleasurable experience, but very well worth it if you can handle it. You might also want to read about this popular coconut oil sleep remedy that got me stuck in the washroom all night. You can start with 1-2 days in a row every month and then work your way to 3-4 days per month. But definitely, no more than 6 days in a row at any point. 2 days a month seems like a doable and safe choice with me.
This 4 minute video shows how to do it:
Have you tried the salt water flush? How was your "let it goo" moment?
Please check out these articles related to salt water flush:
Salt Water Flush: The Basics and Guide to the Ultimate Colon Cleanse
Salt Water Flush: Recipe and Method for a Perfect Colon Cleanse
Salt Water Flush: The Master Cleanse Method