Are you looking for the best dry hair remedies to help with your frizzy, tangled and lifeless hair?
If you have dry hair and get frustrated trying to put a simple comb through that tangled web, I can relate and have done lots of research to help myself and hope these tips will help you too.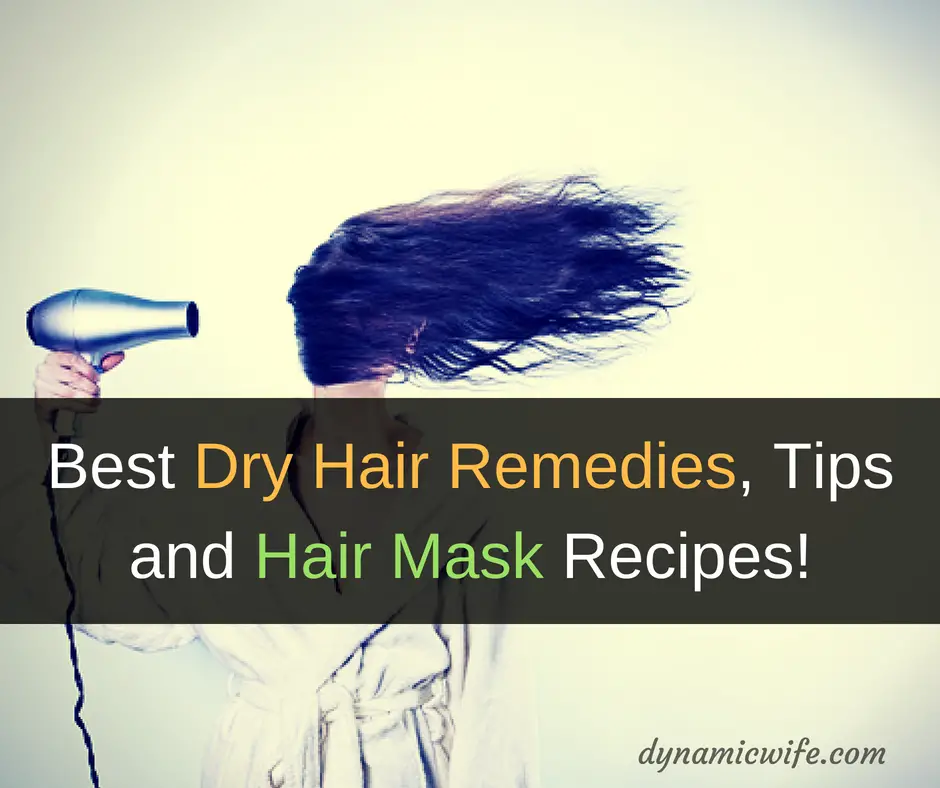 SEE ALSO: How to use Jamaican black castor oil for hair growth and Neem oil for hair.
Whether it's a temporary issue, dry hair in summer months or even if it's been a more long-term problem, keep reading. 
We've put together a list of all the best remedies and tips you can try to put an end to it.
Taking the time to care for your hair will help it to become smoother, softer, silkier, and help it to grow faster. 
Dry hair can happen for a variety of reasons and we'll go through them all so you can find the best way to care for and prevent it from happening to finally get that soft, shiny, manageable hair that you've always wanted.
Causes of Dry Hair
Dry damaged hair is usually caused by at least one or more of reasons such as:
Sun –

the sun's rays are very powerful and even if you only spend a small amount of time enjoying its warmth, it's drying out your hair.

Over Processing –

hair coloring can take its toll on your hair as well as perms or relaxing treatments when used too often and the results are those dry, brittle and frizzy ends that you're trying to deal with.

Heat –

this can be due to the heat of the weather as in the sun, or even hot water on your hair when you shower or the heat from a blow dryer or curling iron.

Infrequent haircuts – Regular haircuts 

hor even a hair trimming every six weeks is good for your hair and eliminates split ends.

Chlorine –

if you're a frequent swimmer and don't use a shower cap, your dry hair could be the result of this chemical.

Lack of nutrients –

hair needs vitamins and minerals to be healthy, just like your body does.

Lack of moisture –

hair also needs moisture that can and should easily be added daily for the healthiest locks.

Chemicals in products –

could be the problem for your hair since they get into the roots and build up. Plus they add no nutritional value to it.

Menopause and aging –

two common factors that happen to all of us that live long enough to grow old. Hormonal changes and aging cause a dip in the moisture of our skin cells and hair.

Medications and illness
Shea Butter adds moisture to dry hair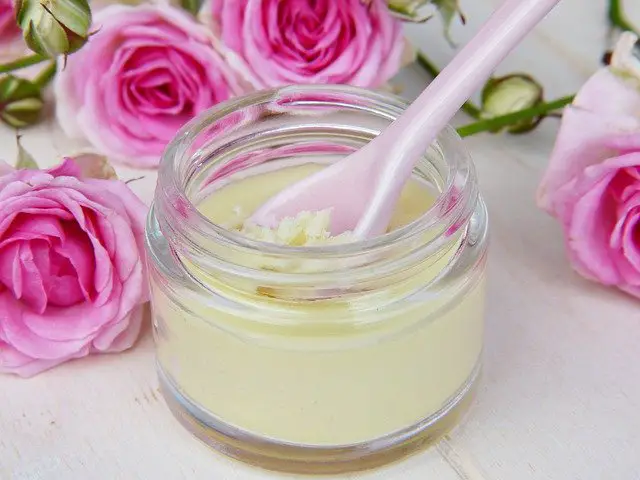 Use shea butter as a deep conditioner for your hair, on the dry brittle ends and give your hair a boost of shine. 
Shea butter is one of the cheapest all-natural treatments for lifeless and dull hair that works pretty quickly.
If you've never used it, shea butter is a fantastic deep conditioning treatment for dry ends and frizzy hair. 
You can also use just a touch on fingertips as a leave-in conditioner. Try it and see the difference it makes!
The best part is that you can buy and whip your own DIY shea butter lotion in minutes. You can also use it for your face and body as well.
Check out the current top rated Shea butters on Amazon!
Let Coconut Oil do the work!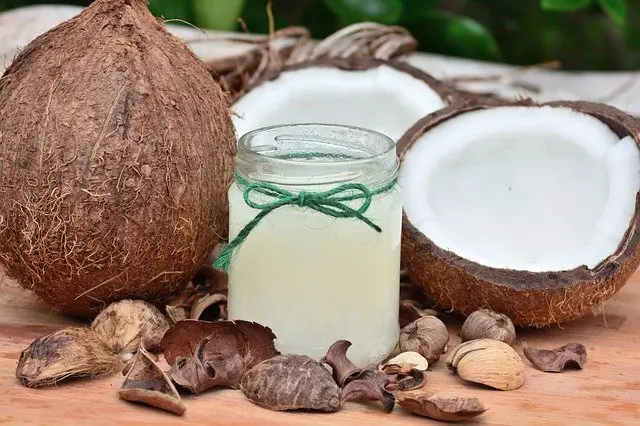 Try cold pressed coconut oil as a hot oil treatment to help moisturize very dry, lifeless and frizzy hair. Pre-treat dry hair before going to the beach or pool to prevent further damage to hair. 
You can also use it to soften skin, to cook with, bake with, use as a spread for toast and it helps the heart and blood sugar for added benefits.
Similar to shea butter, raw organic coconut oil can also be whipped to make hair and body cream in minutes.
Sun protection for dry hair
Just as the sun can burn your skin when you are outdoors and exposed to high levels of harmful rays, the same happens to your scalp and hair [1].
The next time you're out in the sun, at the pool, beach, theme parks, barbeques, and picnics or just hanging out with your friends, remember to protect your hair from the sun by using the tips below.
1) Use a leave-in conditioner before going into the sun.
2) Spray your hair with jojoba, argan or coconut oil before going into the sun, to the beach or the pool.
3) Wear a large brimmed hat to protect your hair.
4) Limit your exposure to the sun and take frequent breaks out of the direct sun.
Dry Hair Deep Conditioning Treatment
A MUST for dry hair treatment – you'll see a noticeable difference.
Dry damaged hair can benefit from a daily leave-in conditioner. Use it after shampooing and conditioning your hair, towel dry gently and then apply a medium amount into the palm of your hand.
Blend it in your hands and then bend over so your hair hangs in front of you.
Now apply the conditioner into your hair starting at the scalp and working through to the ends.
Flip your head back up and then use a wide tooth comb to comb the leave-in conditioner in completely.
This will moisturize your hair all the way to the ends and reduces split end problems.
Using a Deep Conditioning Treatment:
Until your hair is more manageable, use a deep conditioner every other day.
Shampoo only every 3 or 4 days, unless your work in a dirty or smoky environment or live in a humid climate,  your hair doesn't get dirty and dry hair needs all the moisture it can get and keep!
Apply at least a palm full of deep conditioner to your hair beginning at the scalp and working into all the hair strands as best as possible.
Massage the product into your hair, especially the scalp to reduce dryness there.
Comb through and then use a clip to hold the hair on top of your head.
Apply a warm towel over hair to increase the saturation level of the deep conditioner.
Wait at least 20-30 minutes for the product to moisturize your hair.
Remove the towel and rinse your newly conditioned hair with cool water.
Air dry if possible or use a low heat blow dryer (always with a diffuser for dry damaged hair).
Maintain smooth silky hair with your deep conditioning treatment weekly.
Nutrients for Dry Hair
Adding these vitamins to your daily beauty routine will help to improve dry, brittle hair, lifeless hair damaged by the sun, coloring, perms, over processing, improper products or lack of nutrients in the diet. 
Look for any of these ingredients in hair care products and in the daily vitamins you take.
Biotin – helps to grow your hair.

Vitamins A, C, and B encourages growth, shine, and overall health.

Vitamin E – gives hair that soft, silky and shiny appearance and strengthens your hair too.

Iron – stops hair from becoming brittle [2].

Copper – assists with maintaining the color of your hair so less processing is necessary and an overall improvement in dry hair.

Collagen – the protein building block of all cells.

Folic acid – also helps to keep your own natural hair color for less frequent coloring.

Aloe Vera Leaf

Hair growth herbs

Amino acids

Zinc oxide
Blow Dryers and Curling Irons Usage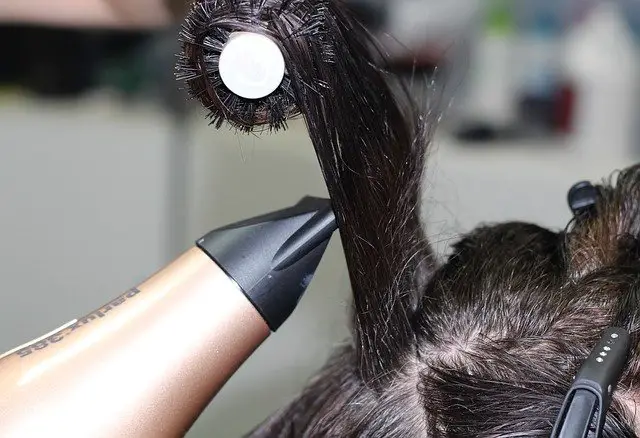 Dry damaged hair has really taken a beating with the daily use of a blow dryer or curling iron [3].
Use these tips for better results and to reduce damaging your hair further:
Blow Dryers:
Always use a diffuser on your blow dryer when you have dry hair, you'll avoid drying it too fast or drying it out more.
I love a diffuser and won't ever use a blow dryer on my hair without one! Try it if you haven't yet.
Use a heat tamer protective spray before blow drying, spray it in and allow it to dry before blow drying to improve shine.
Use the lowest heat setting necessary to dry hair.
Curling Irons:
Always use a heat tamer protective spray first.

Use a ceramic iron that won't pull the hair.

Separate the hair and work on one section at a time.

Use the high heat so that you can work quickly and reduce the time of an iron on your hair.
Home remedies for dry damaged hair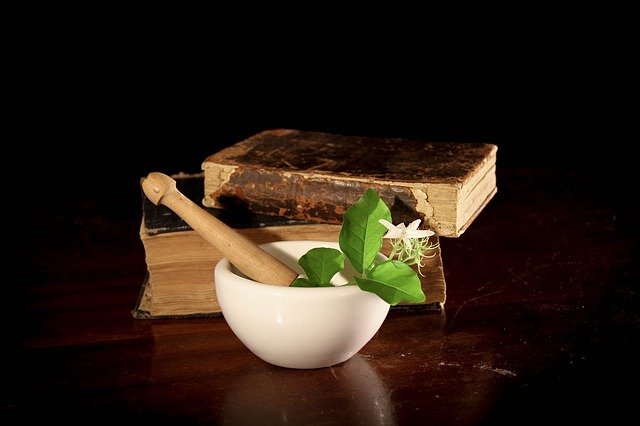 When you need a quick fix for your dry hair or when you're having a really bad hair day, look no further than your own kitchen!
There's a good chance you already have some of these ingredients at home or you can easily find them in a local store.
Although they can be messy, these are some of the best ways to give yourself a hair treatment in a pinch:
Use Mayonnaise!
Portion out a couple tablespoons of mayonnaise into a small bowl. Use your hands to apply small amounts directly to dry hair and work it into all hair including the scalp and ends. 
Allow it to set for 20-30 minutes and then rinse out, style as usual. Use weekly.
Extra Virgin Olive Oil
Pour two to three tablespoons of olive oil into a small bowl or into a spray bottle. Apply to dry hair starting at the roots and working all the way to the ends.
If possible, use a wide tooth comb to comb oil all the way through the strands of your hair for a deep conditioning treatment that you can use at least weekly.
Rinse out after 30 minutes and style as usual.
Hot Oil Treatment
Place 1 or 2 tablespoons of any hair oils you have available (Coconut, Olive, Castor, etc)  in a bowl, wet hair with warm water, apply the oil using your fingers or a pastry brush.
Comb through as best as you can. Heat a towel in the microwave until you can safely wrap your head without getting burned!
Wrap hair with the warm towel and wait 20-30 minutes. Remove towel and wash hair thoroughly, rinse with cool water.
EGGS
Eggs are loaded with protein and can help to heal your dry hair to reduce brittle and frizzy hair.
Crack 2 eggs into a small bowl and whisk with a fork until it's completely blended. 
Apply to dry hair using your hands starting at the scalp and working through to the ends.
Leave on 5 minutes, rinse well with warm water and a cool rinse. Style as usual.
DIY Hair Masks for dull hair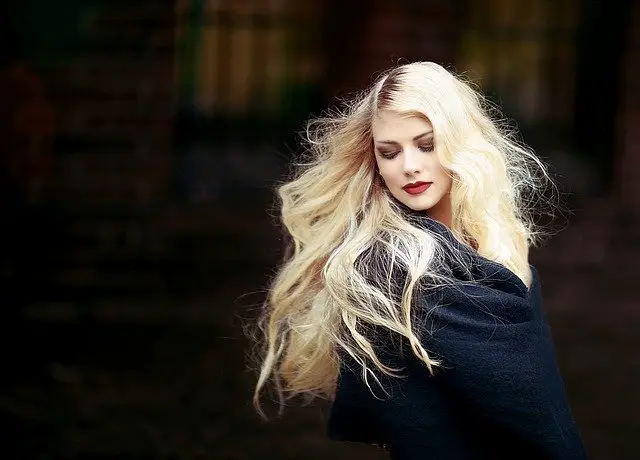 Whether the season is summer, fall, or winter, it's never a bad time to remedy a dull and lifeless hair so why not try some of these home remedies to promote the shine your hair needs and deserves?
These homemade hair remedies quickly infuse shine and make your hair beautiful and healthy looking.
Try honey to add shine to dull hair
Mix 3 tablespoons of honey and 1 pint of water. Rub the mixture into hair and scalp. Leave on for 20 minutes (cover hair with a shower cap). 
Rinse hair thoroughly with cool water and blow dry hair on medium high. 
Save the remaining honey mixture and use once a week to keep your hair shiny and full of volume.
Use espresso to enhance hair's natural shine
Brew 1 cup of strong espresso. Let it cool for 30 minutes. Pour it over dry hair and leave it in for 20 minutes (cover hair with a shower cap). 
Rinse hair thoroughly with cool water and blow dry hair on medium high. Your hair will instantly shine and glow.
Apple cider vinegar rids hair of dirt and oil
Mix 1/4 cup of apple cider vinegar with a gallon of water. Wash and rinse hair as usual with your favorite shampoo. Pour 2 cups vinegar and water mixture into hair and rub in.
Leave in for 30 minutes (cover hair with a shower cap). Rinse hair thoroughly with cool water and blow dry on medium high.
Save the remaining vinegar mixture to use every two weeks to cleanse product residue and oils from your hair.
Use fresh lemon juice to add shine and bounce to hair.
Mix 1 teaspoon of lemon juice from a lemon to 1 cup of water. Wash and rinse hair with your usual shampoo. 
Pour lemon juice mixture over wet hair and massage in for a few minutes. 
Rinse hair immediately and thoroughly with cool water. Blow dry hair on medium high. Hair will be full of shine and bounce.
Hint: don't leave lemon juice mixture in hair as it can alter the color if you color your hair or have dark hair.
Use egg whites to add shine to dull, lifeless hair
Separate 2 egg yolks from the egg whites and beat the egg whites together in a small bowl. 
Rub the frothy mixture over hair, taking care to generously spread onto ends of hair. Let sit for 5 minutes. 
Rinse and wash as usual. You can do this remedy once a week to add shine to dry hair.
TIPS:
* Always use cool water when rinsing hair as it helps to close hair follicles and promotes shine. warm or hot water will leave hair dry and dull.
* A shower cap will keep hair moist and warm, helping it to retain shine.
* Always test for skin allergies before using any home remedies.
* Be careful when using lemon juice as it can alter the color of your hair if left on too long…just be sure to rinse hair immediately and thoroughly and you'll be okay.
DIY Egg Shampoo for Shiny Hair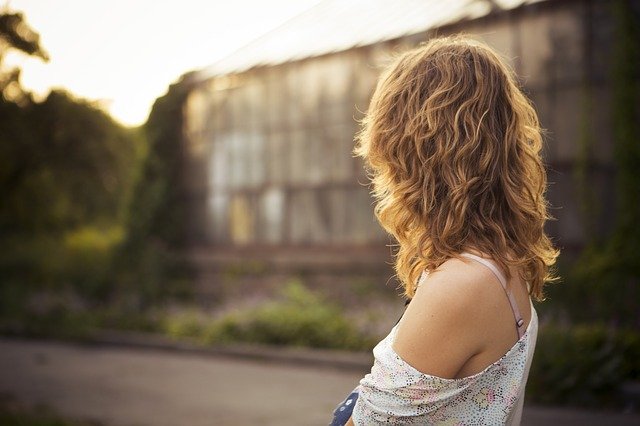 Eggs are known to be great for adding shine and bounce to dull lifeless hair. The yolks of the eggs give hair protein and other necessary vitamins to correct damaged ends and dryness. 
Egg whites add shine and get rid of build up in dull hair that many shampoos cannot correct.
Here's a great homemade recipe for an egg shampoo that will add instant shine to your hair. All you need are a few ingredients that can be found in your kitchen and a little time. 
You can use this egg shampoo recipe anytime you want to add shine to hair or whenever it's feeling dull and drab.
You Will Need:
1 tablespoon liquid castile soap
1/2 a cup of water or herbal tea
5 drops of essential oils of your choice
In a medium-sized mixing bowl, beat the egg, olive oil, lemon juice, castile soap, and water or herbal tea until thoroughly mixed.
You can also put ingredients in a blender and blend on medium-high.
Hint: castile soap is a natural soap made mostly out of olive oil and can be purchased online.
Add a few drops of your favorite essential oil to get a nice scent for your egg shampoo mixture. 
You can purchase oils online that come in all flavors from coconut, strawberry, peach, banana, or any scent you choose. 
The oils help give your hair a great scent since the egg shampoo can be a bit potent by itself.
Blend egg shampoo mixture completely and add to dry hair. Massage mixture into hair and scalp and leave the treatment on for 30 minutes.
Rinse hair thoroughly with cool water and air dry or blow dry hair on low-medium-high. Save any remaining egg mixture in the refrigerator to use one a week.
Helpful Hints:
* Olive oil and castile soap (olive oil based) are great for adding shine to the skin as well.
Use them alone to give skin a healthy glow by washing with castile soap, and massage some olive onto your skin after pat drying it.
* Be sure to test for any skin allergies before using eggs or any of the products listed in this homemade recipe.
Tips for those with long hair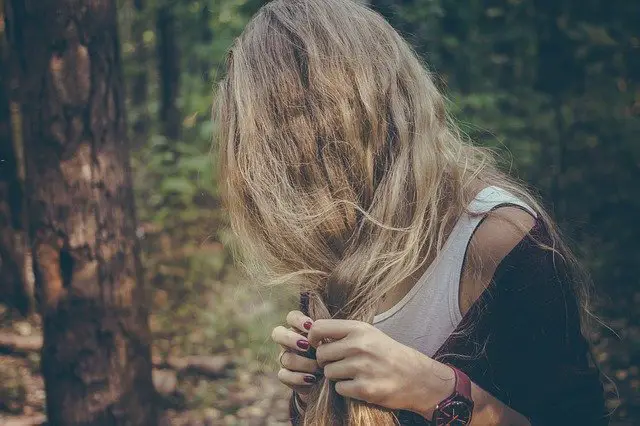 Long hair can be beautiful and healthy if you take good care and protect it. 
It does take a bit of work, but the results are amazing and will make your hair completely manageable. If you treat your long hair well, it will always look salon great.
Here are some tips for keeping your long hair beautiful and healthy with just a few tricks you can do at home.
Avoid constant blow drying
Blow drying long hair can damage it and leave it lifeless and dull. 
The heat from the hair dryer can break off and split the ends of your hair, creating a dry and frizzy look. If you can help it, try to wash your hair in the evening and let it air dry.
Letting your hair dry naturally without the heat from a blow dryer will keep it looking shiny and healthy. 
Plus, you won't need to go to the salon as often to have split ends trimmed. This will also save you money. 
Stay away from the blow dryer as often as possible and watch how healthy your long hair can be.
Moisturize and condition
Conditioning long strands will keep them looking fresh and vibrant. 
There are hair conditioning masks that can be left on the hair for about 10-15 minutes and provide intensive moisturizing treatment to your hair.
If your long hair is severely damaged, try a deep conditioning treatment for about a half hour for more intensive repair. 
Also, use a good daily conditioner that provides protection for your hair, especially if you use a lot of heated styling equipment or a lot of products daily.
Regular chops
Trimming your hair often, at least once every six weeks, will make it appear healthy since you'll be getting rid of the split ends and dead hair that becomes damaged from constant heat styling. 
Be sure to ask for at least a half an inch trim off the ends when going to your stylist.
It's recommended that you get about an inch cut off each time, but many people want to keep growing their long healthy locks and prefer to only trim a little bit at a time. 
You can also trim your hair at home by twisting sections of your hair and trim a half inch off the ends that stick out.
Do not risk it if you think you're going to mess it up though.
DIY Split ends care
Split ends can be a pain especially when you have to spend money at a hair salon to remedy them. 
Wouldn't it be nice if you could trim your hair at home and get rid of split ends easily and save money?
Well, you can and it takes only a few minutes to do. Here are some tips for trimming split ends at home and saving money at a hair salon [4]. 
This way, you can increase the length of time you go in between trips to the stylist.
Trim split ends when hair is dry and freshly cleaned
Clean dry hair is best for seeing split ends. Hair that is oily or greasy will conceal split ends and make it harder to find them when trying to trim them. 
When hair is recently washed and dried, it will be more flyaway and easier to trim because split ends will be more noticeable. 
Do not put any styling products in your hair after washing and drying.
Twist hair in one-inch sections and trim flyaway pieces
Take a small chunk of hair in about a one-inch section. Twist it tight so that small pieces come out of the twist. Trim off the flyaway pieces about a 1/4 of an inch up. 
Do this all around your head to get rid of split ends throughout your hair. You can save more time when trimming split ends by twisting up chunks of hair that are thicker. 
Be sure not to cut up any further than 1/2 inch if split ends are bad.
Finish up with an intense leave-in moisturizing cream
Wet hair after trimming split ends and use an intensive moisturizing hair treatment. 
Rub the conditioning treatment heavily onto ends and leave on for about a half hour. 
Rinse thoroughly and let air dry to keep ends healthy and fresh. Blow drying hair will cause more damage and split ends again.
Trim split ends at least once a month to protect hair and keep it looking fresh.
Split ends can happen due to bad weather, constant blow drying and styling, and even product use. 
Trimming ends often will keep your hair healthy and look its best. Also, try using an intense conditioning treatment at least once a week to help keep ends healthy. 
Always air dry hair whenever possible to keep it looking its best.
Did you find these dry hair remedies and tips useful?
Please comment below and let us know how you deal with yours.