Are you wondering how to use Neem oil for hair growth?
Wonder no more.
You're going to learn just that and more on this post.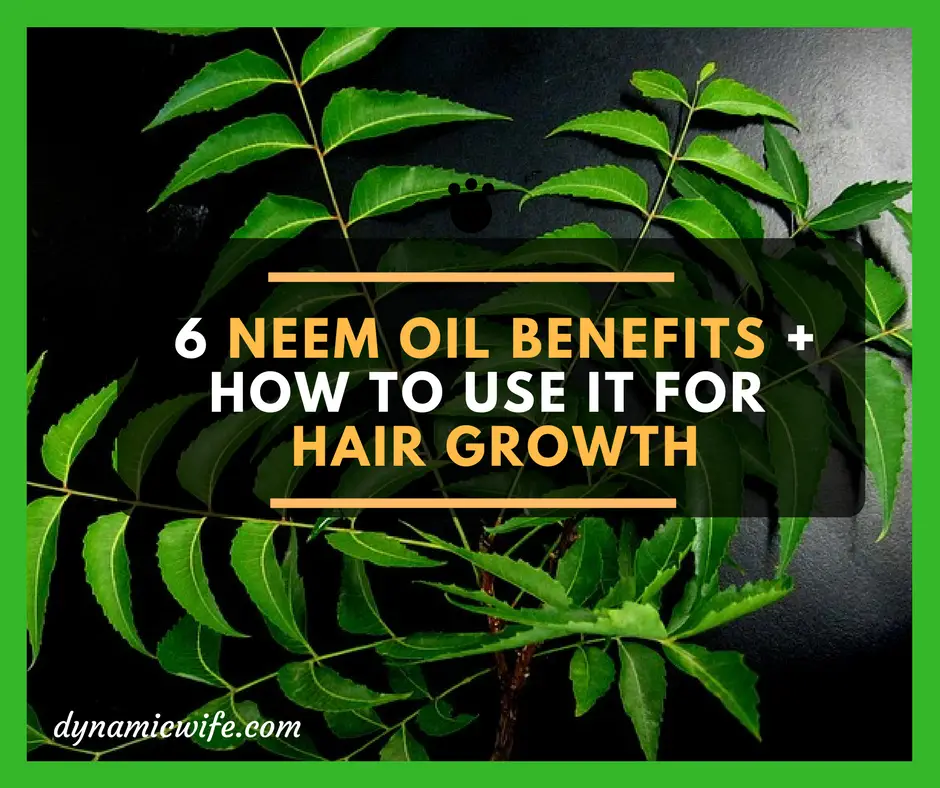 Neem tree originates from India and has been used in the Ayurvedic medicine for thousands of years.
Every part of the tree has been used for medicinal purposes.
For instance, WebMD states the Neem seed and its oil can be used to treat leprosy and intestinal worms.
NOTE: Don't forget to grab your FREE copy of my 1-week hair growth planner at the bottom of this post.
SEE ALSO: How to use JBCO for hair growth.
Here we're going to look at some of the science backed benefits of Neem oil for hair growth and how to use it.
1 . Neem oil has been proven to be effective for treating head lice.
One of the well-known benefits of Neem oil for hair is that it can be used to treat head lice.
Head lice can cause symptoms such as itchiness and inflammation of the scalp [1].
Continual itching and scalp inflammation from head lice can gradually contribute to hair damage and loss.
A study conducted on 12 children with intense head lice infestation found that Neem oil extract was not only effective in killing the lice, but also its eggs [2].
2 . Neem oil is an excellent remedy for dandruff.
Dandruff is usually harmless and quite easy to get rid of if you take care of the factors causing it.
However, chronic dandruff can cause swelling and itchiness of the scalp.
In the long run, this swelling and itching combined with continuous flakes of dandruff on your scalp can contribute to hair loss by damaging the hair follicles [5].
Other than oily and/ or dry scalp skin, Malassezia fungus is one of the main causes of dandruff [3, 4].
The antifungal, antibacterial and anti-inflammatory properties of Neem oil are excellent to treat this fungus and to give relief from the itchiness/swelling caused by dandruff [6].
Bottom line: By helping to get rid of dandruff, Neem oil helps hair growth by allowing your hair follicles to be healthy and free from the buildup of oil/fungus.
3 . Neem oil for scalp Psoriasis
This is another great benefit of Neem oil for hair growth.
Scalp psoriasis can cause hair loss, sometimes even permanent hair loss [7].
The anti inflammatory, antibacterial and antioxidant properties of Neem oil have been proven to be effective for treating scalp psoriasis [8].
Hence, Neem oil promotes hair growth by aiding in the treatment of scalp psoriasis and healing the inflamed hair follicles.
4 . Neem oil helps hair growth by healing inflamed hair follicles
Many factors can contribute to the damage of hair follicles, some of which include scalp infections such as ringworm.
The rich anti inflammatory and other skin healing properties of Neem oil can help treat the damaged hair follicles and help your hair to grow stronger [9].
5 . Antioxidant properties of Neem oil for hair
Studies have shown that patients with alopecia (Female Pattern Hair Loss) tend to have a low antioxidant level in their scalp [10].
As mentioned earlier, Neem oil is loaded with antioxidant properties that can help speed up your hair growth.
6 . Neem oil for dry and frizzy hair.
The rich moisturizing and antioxidant properties of Neem oil can help get rid of dry hair and add a natural glossiness to your hair.
3 Effective Ways to Use Neem Oil for Hair Growth
NO 1: Neem Oil Overnight Hair Mask
What you will need:
2-3 Tablespoons of Organic Neem oil: Adjust amount to suit your hair length.

1-2 Tablespoons of extra virgin coconut or olive oil
What to do:
Mix the oils in a small glass bowl and place it in a pan filled with hot water for a minute so the oil can warm up.
If you want to use a microwave, 5-10 seconds will do it.
When the Neem oil mixture is warm enough for the skin, use your fingers to dip the oil and start distributing it evenly on your scalp.
When you're done coating your entire scalp, rub some of the Neem oil mixture in the palm of your hands and massage your scalp for 5 minutes.
Apply any leftover oil on the rest of your hair and put your hair into a loose bun.
Wrap your head in a plastic bag or a shower cap and secure it with a bobby pin.
Leave it on for 5-6 hours before washing your hair.
Best time to do it: before bed.
How often to do it: 2 times a week for best results.
Suitable for: Those who don't care about the unpleasant smell of Neem oil at all and only care about its hair growth benefits.
NO 2: Neem Powder Deep Conditioning Hair Mask
What you will need:
3-4 Teaspoons of Neem powder: Some of you ladies from India might be fortunate enough to get fresh Neem leaves from your garden and powder it yourselves. But everybody else, we can get hold of it from Amazon here.
Rose water: Just enough to make a runny paste.
1 teaspoon of Olive or coconut oil
What to do:
Add the Neem powder and rose water into a small bowl and mix it well so it turns into a liquidy paste.
Add the coconut or olive oil to it and apply this mask to your scalp and hair.
Wrap with a plastic bag and leave it on for 1-2 hours.
Wash your hair with regular shampoo.
How often to do it: 1-2 times a week.
Here's a good video tutorial on how to prepare the Neem powder hair mask:
NO 3: Neem Oil Salt Scrub for Hair Growth
What you will need:
What to do:
Mix the sea salt and Neem oil into a smooth scrub and apply it on your scalp.
Gently scrub and massage your scalp with it for 5-10 minutes.
Wrap your head with a plastic bag and leave it on for 30 minutes.
Wash it off with your regular shampoo.
Neem Oil for Hair Growth FAQ
Will Neem oil leave my hair smelling so bad?
Neem oil does have a strong unpleasant odor. So yes, it might take 2 washes to completely come off.
But your hair will thank you for it.
It's best done on your day off from work or on a day you will not be going out.
Stick with the powder hair mask method if you think you will not be able to handle the smell at all.
How long will it take to see results from Neem oil for hair growth?
Generally 1-3 months depending on the current state of your hair.
A lot of people have reported seeing improvements in their hair as early as 2 weeks.
As with every other hair treatments out there, you should be consistent with it for at least 3 months to really get the best out of it.
Where do you buy Neem oil?
Amazon, eBay and anywhere where you can buy quality herbal products in your country.
Here are some of the best rated Neem oils on Amazon with positive feedback from customers who've used it.
And here is a good quality Neem powder on Amazon.
Must I do all 3 of the Neem oil hair methods from this post?
No.
Do either the Neem oil or powder mask method once a week and the salt scrub method once a week for best results.
Have you ever used Neem oil or powder for hair growth? Share your feedback below.