Are you wondering how to use Jamaican black castor oil for hair growth?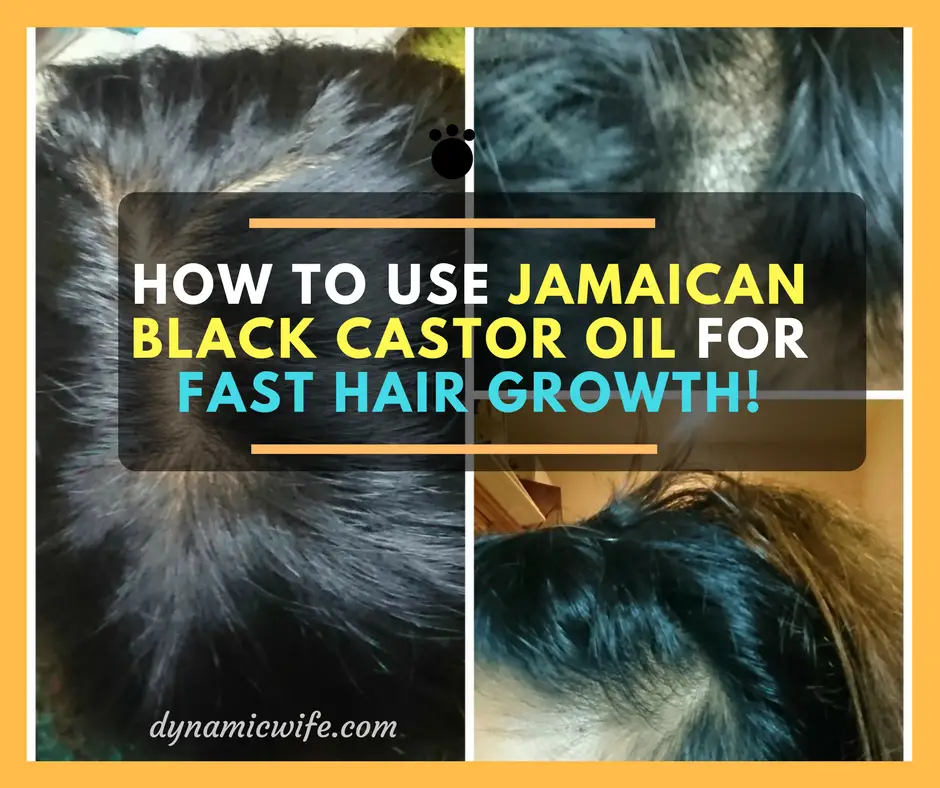 Well, take a seat back and keep reading because I'm going to tell you just how to do it.
I, my husband and the rest of my family (aunties/cousins) are all a huge fan of Jamaican black castor oil.
I mean you just can't go wrong with JBCO, I went from barely there Casper eyebrows to thick dark eyebrows within a few months of using it. You can read about that on this post and check out my eyebrow growth pictures using Jamaican black castor oil.
Even my husband, he was complaining about hair loss for the past few months and he said he can see a huge difference within a month of using Jamaican black castor oil for hair.
What I really love about Jamaican black castor oil is how miraculously it thickens and grows the thinning edges and receding hairline.
But first…
How exactly does Jamaican black castor oil help with hair growth?
Castor oil is packed with ricinoleic acid: the active ingredient in Castor oil. This acid has been proven to have anti-inflammatory properties. [1]
Inflammation of the scalp is one of the main causes of hair loss in both men and women.
Hence, the anti-inflammatory properties of castor oil, when applied on the scalp helps treat the inflammation and increases blood circulation to the scalp.
Now here's How to Use Jamaican Black Castor Oil for Hair Growth!
What you will need:
Jamaican Black Castor Oil: We use the

extra dark version of Sunny Isle

from Amazon.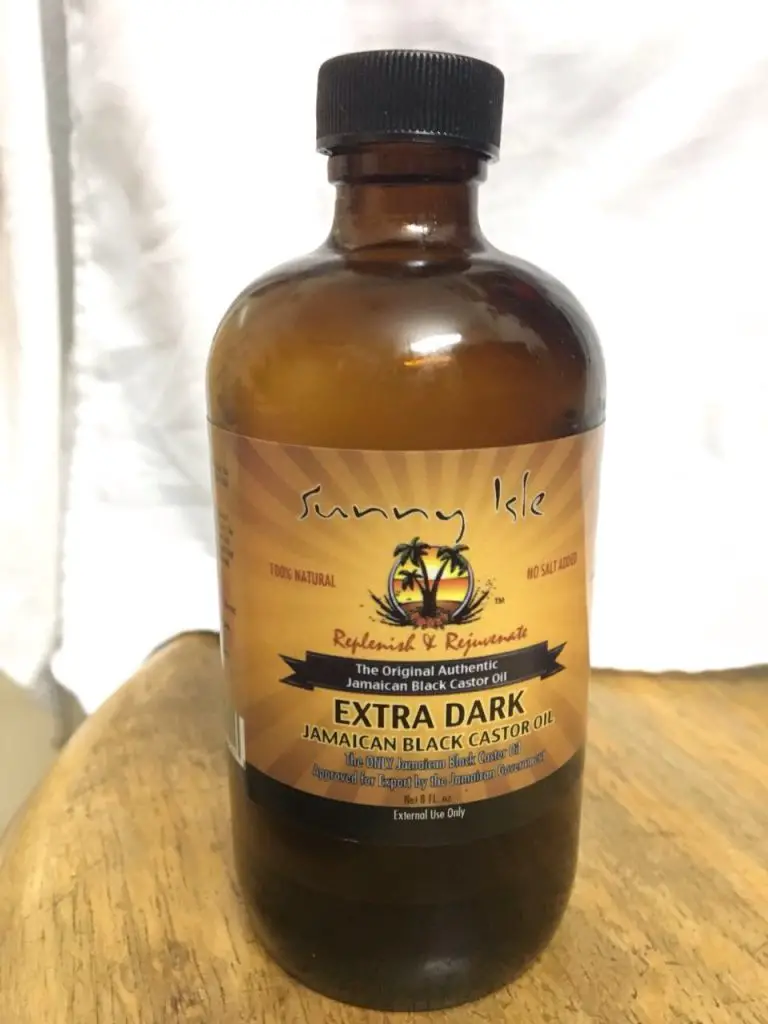 View the top rated Jamaican black castor oils on Amazon!
Extra virgin Coconut or Olive oil  

A small glass bowl

A shower cap or a plastic bag to wrap your head with.
Best time to do it: Any time during the day simply because castor oil has a cooling effect on the scalp and some might not like it in the night.
How to apply the Jamaican Black Castor oil On Your Hair
If your hair is at or above shoulder level:
You can do with 2-3 teaspoons of JBCO and 2 teaspoons of either olive or coconut oil.
If your hair is below shoulder length:
Take 3-4 teaspoons of JBCO and mix it with 2-3 teaspoons of olive or coconut oil.
Are you wondering why we're mixing other oils with the Jamaican black castor oil?
It's not because the JBCO won't work on its own, but because it has a thick and gooey consistency. And mixing it with another hair oil will make it easier to apply and massage into your scalp.
Besides, both coconut and olive oil are also excellent for hair growth so adding one of them to the JBCO mixture will only increase its strength.
What next?
Put the glass bowl in a pan filled with hot water for a minute or if you're using the microwave, 10-15 seconds is enough.
The oil should be warm enough to apply on your scalp, not boiling!
Spray some water on your hair first so it's damp, but not wet.

Take some oil in the palm of your hands, tilt your head down and start massaging your scalp with the JBCO mixture for 5 minutes.

Once you've massaged your entire scalp, apply any leftover oil on the rest of your hair and tie your hair into a bun.

Put on your shower cap or wrap a plastic bag around your head and leave it on for 3-5 hours.

Go take your shower!
PRO TIP: When you take the shampoo in your hand, mix in a teaspoon of sea salt with it and massage your scalp. The salt/shampoo mixture will deep cleanse your hair follicles and make way for healthy hair growth.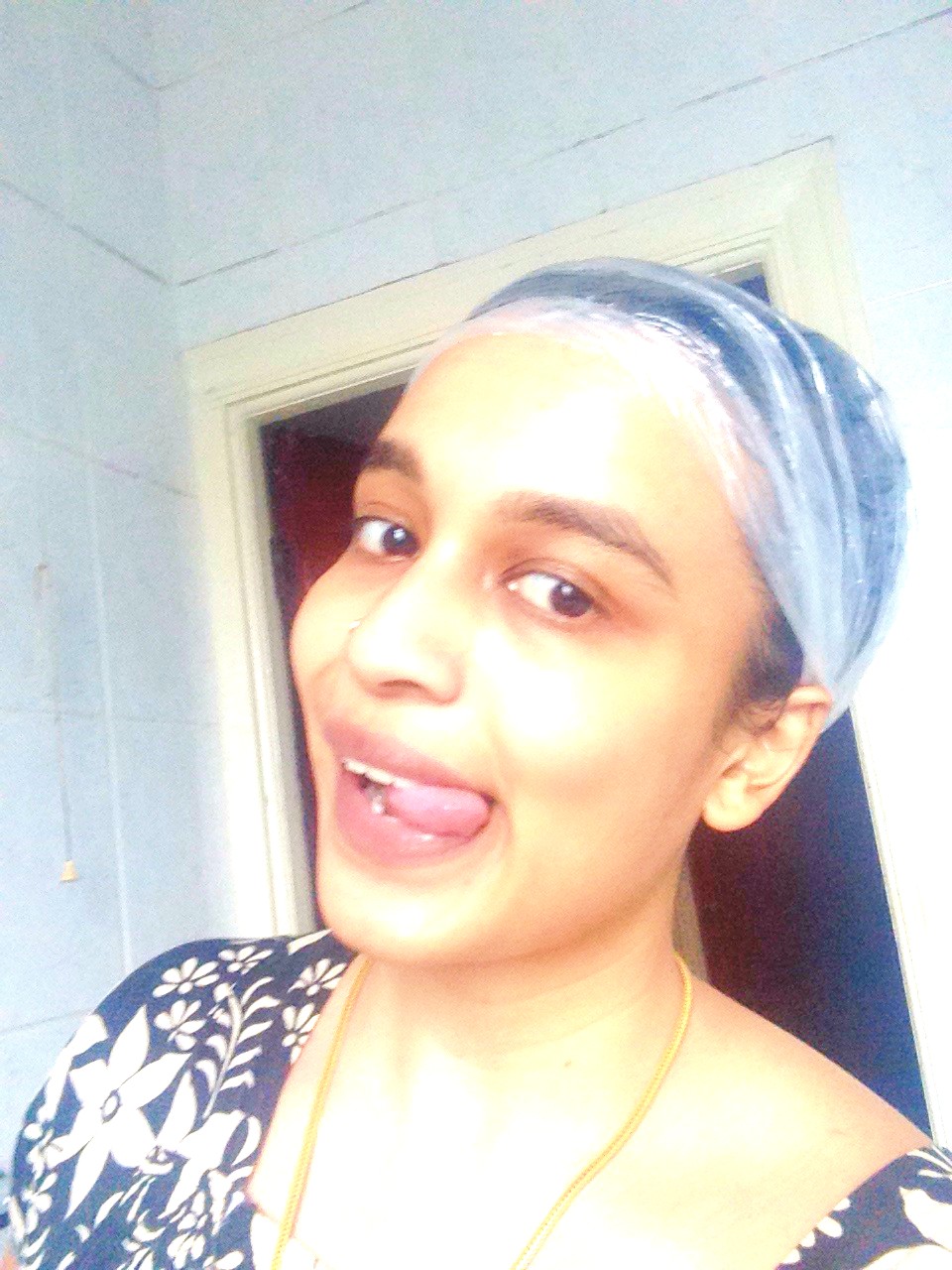 Frequently Asked  Questions (FAQ)
How often should you use Jamaican black castor oil for hair growth?
2-3 times a week.
How long will it take to see results from using JBCO?
If you use it regularly, you should see a noticeable difference within 2-3 months.
What brand Jamaican black castor oil is the best for hair?
My recommendation is the extra dark bottle of Sunny Isle JBCO because we use it and have had great success with it. And it looks like we're not alone because it currently has over 300+ positive feedback and 5* ratings from other customers who've used it.
Is it hard to wash the Jamaican black castor oil from hair?
A little bit, if you use it on its own.
As mentioned earlier, it is a thick and gooey oil which is why I've recommended mixing it with another hair oil like coconut or olive oil.
But either way, it should come off with the first shampoo wash.
Adding sea salt to your shampoo will make it easier for the oil to come off and also deep cleanse your hair follicles.
Can men use Jamaican black castor oil for hair growth?
Yes, without a doubt. In fact, many men have also reported tremendous hair growth after using it.
You can check out their testimonials on Amazon. Some have even attached before/after photos of their hair growth after using JBCO.
Check out the top rated Jamaican black castor oils on Amazon!
You might want to read my post on the causes of thinning hair to make sure you're not making the mistakes I did.
Have you ever used JBCO for hair growth or are you planning to use it? Share your feedback in the comments below.