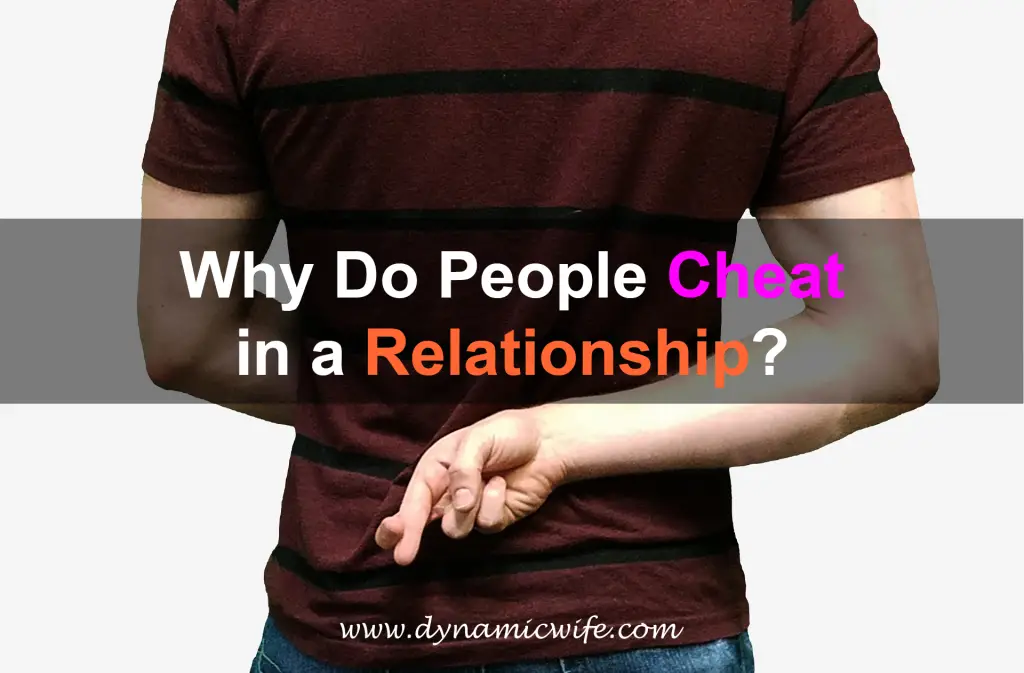 While cheating is a mystery to many people, it is still a very common occurrence. Whether you are single or in a relationship, this article will answer all of your questions about cheating and clarify everything you need to know about why people cheat.
So many people have been cheated on. It's sad, but true. In act, if you're reading this article then you may know exactly what that feels like. Cheating is the ultimate betrayal of trust and happens far too often. But why?
Cheating is a highly contested topic and one that is discussed frequently by the public and in the media. There are novels dedicated to the topic of cheating, radio show hosts regularly discuss unfaithful celebrities and people speak about it often in their daily lives. If there is so much attention freely given to cheating, why is it still such a mystery to some people? Why are there still some people who cheat and others who don't understand why?
There's no denying that cheating causes pain and ruins lives. However, what is rarely discussed is the various forms that cheating can take. While some people think that cheating is only physical, that's not the case! Cheating can be mental and emotional, too. So let's unpack the topic of cheating so that we can all understand a bit more about it and why there are still people out there who cheat on their significant others.
There are several reasons why someone might cheat in a relationship. The reason may look different for everyone and it may even be a combination of some of these reasons listed below. Many cheaters also use these reasons to justify their actions or act like their discretion wasn't all that bad. Some of these "reasons" look more like excuses, laziness or lack of respect- but everyone sees them in a different light. Here are a few of the most popular reasons why someone cheats:
UNFULFILLED SEX LIFE
Sex is an important part of every relationship. Without this level of intimacy, what makes your romantic relationship any different from a platonic friendship? While sexuality is a touchy subject and there are obviously special exceptions to this generalization, if both people in the couple are not on the same page regarding sex, it can be a disaster. One person in the relationship may feel sexually frustrated, ignored, depressed and many other emotions if they don't get the sexual attention that they need from their partner. As human beings, many of us need sex when in a relationship. While sexual desires can fluctuate, this can still cause a problem in relationships.
Another reason related to sex life that may cause someone to cheat is if they don't "click" with their significant other in bed. You can love someone and be physically attracted to them, but just not match up right when it comes to actually being intimate. There are some couples that are compatible in every other area of their lives- except in the bedroom. However, something that can help this- and prevent this from being used as a justification for cheating- is a family psychotherapist. However, this would require dedication and effort from both people in the relationship. People shouldn't be afraid of therapy- instead couples should use it to work through their shared sexual frustration.
EMOTIONAL DETACHMENT
Emotional detachment is a very real problem. There are some people that are either unable to make emotional connects with others and those who have undergone trauma and detach emotionally when in certain situations- like intimate ones. Big life changes like moving, starting a new job or having a child can spur brief spouts of emotional detachment. Stress and anxiety is a leaking cause behind emotional detachment. However, this is another thing that couples would need to likely use therapy to remedy.
Something that can exacerbate cases of emotional detachment is only seeing happy couples on social media. Couples tend to only post their best moments and if you're experiencing emotional detachment, it can make you feel hopeless about your current relationship. The reality is that every couple has their problems, arguments, and issues in the bedroom. It's common for women to have difficulty being aroused, for men to have trouble in bed due to stress or depression and for emotional detachment to ruin sex lives. Unfortunately, if one member of the couple is experiencing emotional detachment only with their significant other, it can lead to sexual infidelity or emotional cheating. It requires much more effort to fix something than to destroy it, which could explain why some people go this route.
"THE SEVENTH-YEAR ITCH"
"The seventh-year itch" is a term popularized by a 1955 Marilyn Monroe and Tom Ewell movie. In the movie, the couple discusses a scientific idea that after a couple has been together for seven years, they grow increasingly tired of and irritated with each other. This supposedly applies particularly to married couples. While it may sound like an unfounded claim, some scientists have backed this up!
Most couples begin to have marital issues after they have been married for approximately six years. In fact, this can be proven by taking a look at the divorce rates which show that more couples are separating during this "seventh-year itch." Not unrelated, around this time in a marriage is also when the most infidelity occurs.
REVENGE
While this is far from the most common reason people get divorced, it is still a reason that some people use for justifying their actions. Unfortunately, there are a handful of people- predominantly women- who cheat in a relationship to get revenge. However, there are a variety of reasons why they want revenge. Sometimes this revenge infidelity is in response to their husband's own sexual infidelity, their emotional cheating, and sometimes for a reason unrelated to cheating entirely.
It's unclear what those who cheat to get revenge expect to gain from it. It isn't exactly a logical response to someone else cheating. It's hard to image that someone who is loyal in general would be able to cheat on their boyfriend or husband. However, it's something that happens in several relationships. If cheating in this way becomes normalized, it's best for the couple to break up.
EMOTIONAL CHEATING
Emotional cheating is perhaps the most common and least discussed form of cheating. While an emotional cheater may not betray their partner sexually, they seek out the emotional fulfillment that they should be getting from their spouse from another person of the opposite gender.
There are several different ways that someone can cheat emotionally. For example, if someone in a relationship constantly speaks to their ex, it could be a warning sign that emotional cheating is going on. Emotional cheating is also dangerous because it tends to lead to lies, which can lead to tension in the relationship. For example, if a spouse finds out that their significant other is emotionally cheating, they might ask them to stop speaking to a certain person. If the emotional cheater fails to do this, they will be much more secretive and dishonest. This can lead to lack of trust in the relationship, which can cause the whole thing to blow up.
In closing, this discussion on cheating truly only applies to those in monogamous relationships. However, if you practice polygamy, make sure that you are open and honest about that with your partner(s) from the start. If you hide this, it could lead to a considerable amount of emotional pain. Polygamy should never be used as an excuse for cheating! If you want your relationship to be open, have a discussion with your significant other about it and make sure you're both on the same page before doing anything that could be considered cheating.
At the end of the day, cheating is immoral. If you are in a committed relationship and are no longer happy, either work to fix the problem or leave. Cheating only leads to heartbreak.
Click Here: Advanced Attraction and Dating Guide