£109.56 ($147.60) is the amount I spent on my first time Keto diet grocery list.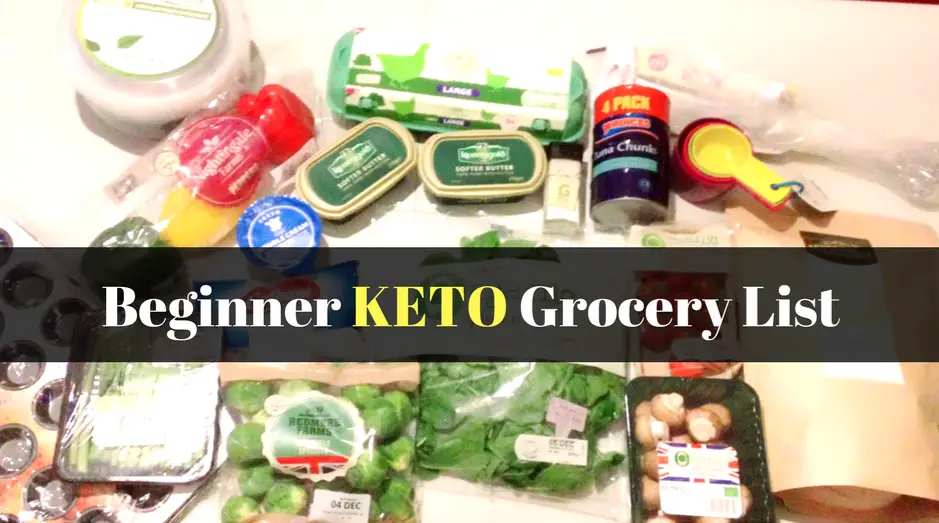 Right now, I don't know what to think of that price because I have no idea how long these items are going to last for.
I bought the right things but just not sure how long they'll last for, yet. Hoping to pass at least 2-3 weeks with some of the keto staples I bought like Coconut oil and Peanut butter.
I know keto diet isn't cheap but I really want it to be as budget friendly as possible.
Don't we all?
So here's what you'll see in this article:
List of each item I bought and the quantity.
What you can buy and avoid.
8 Important key points.
Let's start with 4 utensils I bought from Amazon…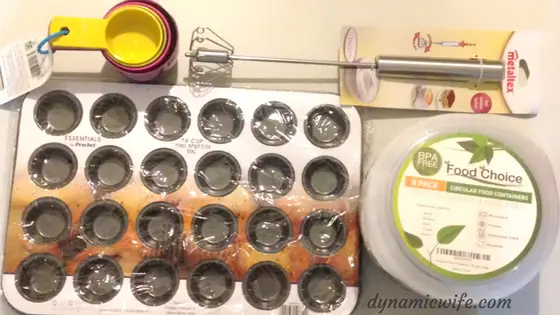 You probably already have these at home, if not, there are some really good and affordable deals on Amazon.
http://amzn.to/2H31jsA
I will be using this to make my Keto fat bombs and breakfast egg muffins.
Alternatively, you can also use an Ice cube tray for your fat bombs.
My Keto diet is going to be all about Food prepping! It's going to save me time and some money.
If you're short on time or simply can't be asked to cook every meal, food prep is the way to go.
Another great benefit of food prepping is that it will be almost impossible for you to cheat when you're hungry because you already have your meal ready to be eaten whenever you want.
I'll have a post on food prepping soon.
This is another item that's never there when I really need it so I bought one.
I will be using it for making Keto bread and fat bombs.
I will be using this for making bulletproof coffee, whisking eggs and for fat bombs.
TIP: Unless you already have them, It's worth buying a cheap muffin tray and some food prep containers because you'll be using them often on the keto diet.
---
The Healthy Fats on My Keto diet Grocery List
This is the most important part of your Keto diet grocery list.
Remember, when you're on a Keto diet, your body will be using fat for energy instead of sugar.
This is why 60-75% of your diet will consist of fats.
Every meal you eat will have lots of fats, some protein, and low carbs.
What does that mean for you?
Stock up some good sources of healthy organic fats!
Here's what I bought:
4 Organic Avocados

1- liter Extra virgin Coconut oil

1 Kg Organic Peanut butter

2 (250g) Kerrygold grass-fed butter

1 case of 12 large free range eggs

250g Mozzarella cheese

250g Organic Mayonnaise

150 ml double cream
Why are Avocados so expensive these days?
Blame it on the popularity of Keto diet!
1 avocado contains approximately 29g of fat so it's easy to meet your daily fat requirement with avocados and eggs if you're not a big fan of meat like me.
As much as I'd like to eat 1 avocado a day, it's not so budget friendly.
Recommended must have choices of fats for your Ketogenic grocery list:
Buy a large (at least 1 liter) organic coconut oil

because it's an excellent source of healthy fat and will last longer than all the other fat sources. You'll be using it for cooking and for making delicious fat bombs.

Organic peanut butter or almond butter

is another great choice of healthy fats that taste great and will last longer. Again, homemade peanut butter sauce, peanut butter fat bombs and more.

Grass Fed butter (Kerrygold):

For cooking, baking, butter coffee, and fat bombs.

Avocados:

Quite pricey, but Avocados are not only rich in healthy fats but also Potassium which you will need to avoid the symptoms of Keto flu.
I recommend buying your Coconut oil and Peanut butter from Amazon because they always have some great deals on those.
And here comes the veggies on my Keto diet shopping list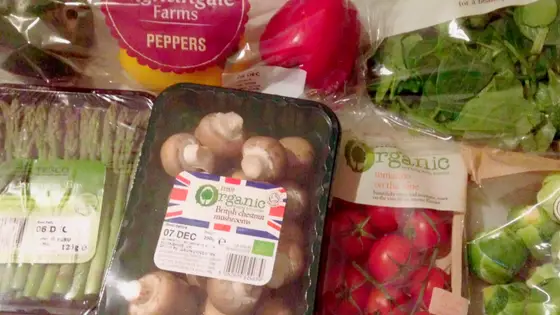 These are the Keto approved vegetables I bought:
Brussel sprouts- 500g

3 bell peppers

Organic cherry tomatoes- 200g

Organic Spinach- 200g

Organic Chestnut mushrooms- 250g

Asparagus tips- 125g
As mentioned earlier, this is my first keto shopping list and I wasn't quite sure exactly how much to buy so I just went for a random shot.
I need to get some Broccoli later and Cauliflower later.
What you can do:
Be sure to include some spinach, Kale, cherry tomatoes and mushrooms in your keto diet grocery list because they're loaded with Potassium, Magnesium and other essential vitamins [1, 2].
My choices of Protein…
I don't eat bacon, mutton or beef. I get most of my protein from fish, eggs, and chicken occasionally.
So here's what I bought for my protein sources:
Princes Tuna chunks in spring water (4 x 160g)

Galbani Mozzarella 250g

1 large free range eggs (12 pack)
I also have peanut butter which is a great source of protein. Plus it will add up from the vegetables as well.
TIP: You might already be aware that you've to try your best to eat only grass-fed organic meat when you're on the Ketogenic diet.
That is awesome but not always affordable, right?
Tuna and eggs are 2 budget-friendly foods that are rich in Protein.
What about the Carbs huh?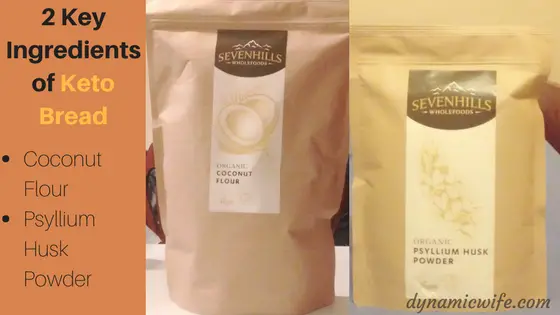 Only 5% (usually 20g) of Carbs allowed per day on the Ketogenic diet. You can use a keto calculator to find out the exact macronutrients/calories you need to eat.
Everything on this list has a pinch of carb in it.
But I bought a bag (1Kg) Coconut flour to make flatbread for lunch or dinner.
I might also get into the habit of making cauliflower rice as an alternative to rice.
Other items I bought and why
Pink Himalayan salt for cooking. It will help maintain the Sodium in your body and prevent Keto flu symptoms.
Balsamic vinegar to make some quick and delicious salad sauces.
Garlic powder to flavor dishes quickly.
Psyllium husk powder to mix with the Coconut flour for keto bread.
Magnesium supplement because I want to avoid Keto flu at all cost.
---
Your Keto diet Grocery List Takeaway:
1 .Stock up on some ready to eat Keto fat staples like Coconut oil, Almond or Peanut butter and Grass Fed butter.
Make sure they're always available so even if you've forgotten to cook or suddenly realize you're out everything else, you can just munch a tablespoon of coconut oil or peanut butter. Or add some Kerrygold butter to your coffee!
Those are some easy ways to meet your daily fat requirement. You can also make some fat bombs out of coconut oil and peanut or almond butter and eat that as well.
That's exactly what I've planned to do for mine.
2 .Unless you have a medical condition preventing you from following the actual Keto diet, or you're hardcore athlete, do not waste your money on Exogenous Ketones.
Plus there simply isn't enough evidence to prove that Exogenous Ketones work and it is EXPENSIVE!
3 .Buy some organic Coconut flour and Psyllium husk powder from Amazon to make quick and delicious keto flatbread.
I'm going to be making quick sandwiches for lunch using Coconut flour flatbread, mozzarella, tomato and spinach (or basil) with butter.
That will go into my lunch food prep containers with a fried egg and some avocado on the side.
4 .Consider combining Intermittent fasting with your Keto diet for additional health benefits.
I will be doing that with a nice cup of bulletproof coffee in the morning.
I'm not entirely sold on the "benefits" of bulletproof coffee, yet, but because I'm also a Keto beginner, I figured it will make it easier for me to catch up on my daily macronutrient requirements until I get used to meal prepping for Keto.
I also want to enjoy the benefits of Intermittent Fasting. A blog post coming up on this soon.
5 .Good quality sea salt, Himalayan Pink salt, and Magnesium Supplement can help avoid (or treat) the symptoms of Keto flu.
You'll be using a lot of electrolytes (Sodium, Potassium, and Magnesium) than normal when you're on the Ketogenic diet and that's the main cause of Keto flu symptoms.
So drinking a glass of salt water with lemon juice and a Magnesium supplement every day can really help maintain your electrolyte level.
6 .Spinach egg (2 or 3) omelet with some butter fried vegetables is one of the quickest keto friendly meals.
Not just quick, but also very yummy and filling!
Chicken or tuna and avocado salad is another quick and easy Keto meal.
I will be making those for lunch and dinner meal preps.
7 .Spinach, Broccoli, Kale, and Mushrooms are some of the best and affordable Keto friendly vegetables.
As long as your fat staples available all the time, you can make a quick meal out of any of these vegetables.
They're also packed with essential minerals vitamins.
8 .Your first Ketogenic Grocery list will likely be your most expensive one.
Because you're buying everything from scratch and you don't really know exactly how much you need of each item until you've passed at least 1 week on Keto.
And that includes me. I spent over £100 on all the stuff I've bought so far but I'm really not sure how long they'll last me until I pass at least 1 week.
I will be sure to update this page once I get the hang of how much I'm spending and how long my groceries last for, etc.
Don't be shy! Tell us about your first Keto diet grocery list! What did you buy and share any tips you have for us?