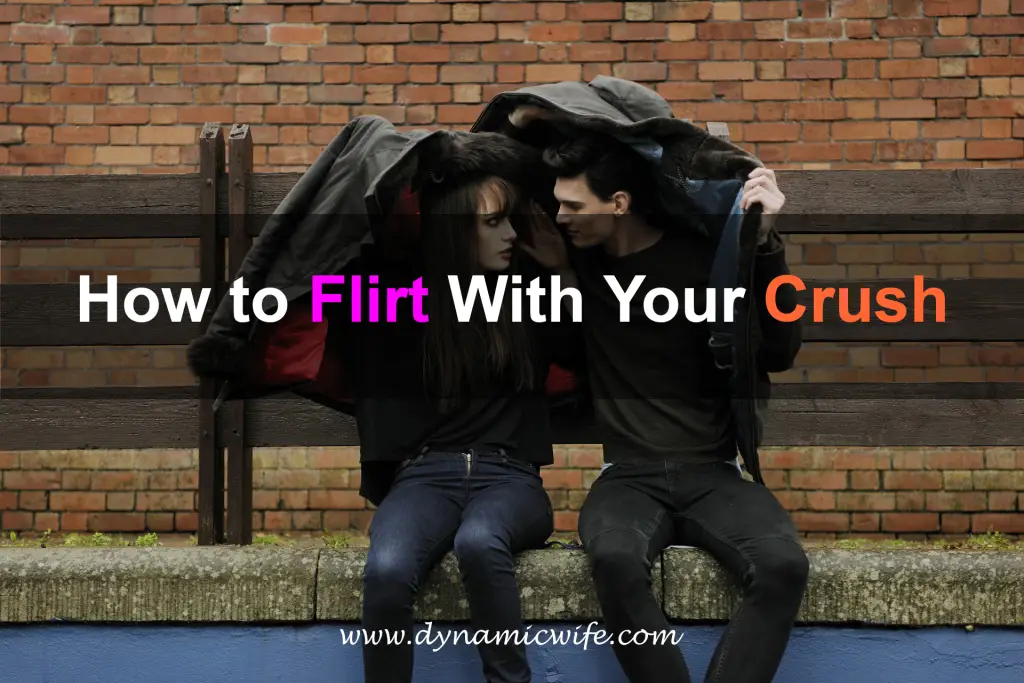 If you have a crush on someone and would like to learn how to flirt subtly, then you're in the right place. These tips will have you flirting like a pro in no time! If you follow the tips carefully, you could attract the most popular person in your school or workplace!
Flirting with anyone can be a nerve wracking experience. If you get anxious before flirting with someone at high school or at your job, consider yourself normal. Very few people don't get nervous when flirting with their crush- no matter how old they are! If you feel too shy to ever flirt with your crush, don't worry. There is hope! If you want to become more confident and courageous around your crush, continue reading this post. You will be taught several flirting techniques that will squash all feelings of nervousness you used to have.
In reality, flirting isn't rocket science. However, your subconscious will have you believing otherwise! You only get nervous or anxious before talking to your crush because your brain thinks that you should be. Flirting can be fun, but only if you know what you're doing. It's also important to keep in mind that flirting for girls and boys look very different. Girls should be a bit quieter and more subtle, which is much harder to do. The goal is to make your crush notice you without thinking you're head over heels for them- even if you are. Here are some helpful tips to turn confidently flirting with your crush from dream into reality:
ALWAYS BE PRESENTABLE
The first thing to note is that flirting is all about confidence and presentation. Even if you wear the nicest clothes, you won't be able to capture your crush's attention without flirting. Playful banter, pick up lines and compliments can only be doled out with lots of confidence. That being said, it's very important for you to be presentable. No one will want to flirt with someone who looks sloppy and lazy. This doesn't mean that you need to go shopping or wear anything fancy- it just means that you need to take care of yourself. Your confidence will thank you! Here are some tips:
Don't overthink it: You don't need to spend tons of money and look like a celebrity. Just wear clothes that you are both comfortable and confident in, whether that's jeans or a nice dress. Also, be sure that all of your clothes fit you properly. If something is too tight or baggy, it can look like you're either trying too hard or like you don't care about your appearance at all.
Be clean and hygienic: Bathe everyday, wear effective deodorant and use sweet-smelling perfume if you want to catch your crush's attention in a good way. Brush your teeth regularly so they stay white and shiny and don't forget to use mouthwash! If you wear makeup, try to keep it natural and minimal so that your natural beauty can shine through.
INCREASE YOUR CONFIDENCE
As mentioned earlier, confidence is key if you want to flirt with your crush without panicking. However, if you have loads of self-doubt and insecurities, you can still increase your confidence! There are many practical ways that you can become more confident and sure of yourself. To many, flirting is a game- but an important one. Here are a few helpful tips to make you look attractive in front of your crush:
BOOST MORE CONFIDENCE
Manage to search for new ways to look and feel confident because flirting skills will naturally settle if you become confident. Many people call flirting a game, but to win this game you first need to undergo a training of improving your personality. Here are some more tips which can make you desirable in front of your crush:
Get friends of the opposite gender: If you're a girl and started hanging out with boys and if you're a boy and start hanging out with girls, this can help you become more comfortable around the opposite sex. Additionally, it can help you become accustomed to their behaviors and attitudes so that when the time comes to flirt with your crush, you're prepared.
Show off your special skills: If you demonstrate what you're good at and gain recognition, you will likely become more comfortable with attention. You'll even feel like you deserve the attention! This attitude is important to keep when it comes to flirting with your crush because it can help develop confidence.
GO FOR IT
If you have been ogling your crush from afar, then it's time to make a move. It may be scary, but it will definitely be worth it. Approach your crush with your shoulders back and head held high. Make eye contact with your crush, but the second they look back at you, shyly look away for a few seconds before glancing back. This subtle flirting technique is often used by girls with their male crushes. Don't come on too strong by flirting passionately- this subtle tactic will do. If you're a guy, step out of your comfort zone and ask your crush for her number. For girls, wait for the guy to come to you. However, if you're a girl and your crush fails to get your number, ask for his the next time you see him.
COMPLIMENTS ARE BENEFICIAL
If you want to flirt with someone, it's imperative that you compliment them. Otherwise, how will they know that you're trying to flirt with them? However, don't start off by flirting in a very obvious way. Instead, use subtle flirting like complimenting your crush on their facial features, style or personality. If you're a girl, you can compliment your crush's physique or sense of humor. If you're a guy, tell your crush that her hair or outfit looks nice. Interject these comments into your conversation so they don't seem random or attention-seeking. It's important that you compliment in a natural way to avoid seeming insincere or fake. Pay attention to your crush while they're talking to you, be involved in the conversation and also sprinkle some compliments in. Say these compliments in a casual way and there will be no need for nerves!
USE PLAYFUL TEASING
Teasing your crush can be a cute, innocent way to let them know that you like them. It's also a main factor in teasing! If you and your crush have known each other for a while, teasing them can be an effective way to catch their attention and make them notice your flirting. Teasing isn't just a way to let someone know you like them, but it's also a way to show off your good sense of humor! By playfully teasing someone, you can also gauge their sensitivity levels, find out what they're passionate about and become better friends. There are so many ways that you can tease someone you like- be creative and make sure not to be insensitive or take the teasing too far.
USE CASUAL TOUCHING
There's nothing that screams "I like you!" like physical contact. But keep in mind that you don't have to be overly touchy to get your crush to know that you're flirting with them. The best kind of touches are gentle and subtle. For example, when you laugh at a joke your crush says, place your hand on their leg or their arm. There are proven links between physical contact and emotions. Flirting is about so much more than just words! If you and your crush are walking next to each other, brush their hand with yours. When you leave after spending time with them, give them a tight hug. Try to get close to them by whispering. Any of these tactics can promote both flirting and intimacy! However, like the teasing, be careful not to come on too strong. You don't want to scare them away! Always be sure that they are comfortable with your flirting and reciprocating.
TEXT
We are living in the digital era, which means that texting and social media play a prominent role in many budding romances. If you have a crush on someone, be sure to get their phone number or friend them on social media sites like Facebook or Instagram. Then, send flirty messages back and forth with your crush. If you get nervous when flirting in person, flirting over text is a fantastic option! It's much easier to flirt openly and obviously over text. Make sure that you don't flirt in every one of your messages- you want to space out the flirting so it's a pleasant surprise for your crush. There are so many things you can say to your crush via text to let them know that you're interested in them. Use some obviously corny pick up lines and continue to banter playfully. Using text to flirt with your crush is one of the most effective ways to make them like you because everyone has a phone these days and is always on it! Even if you are unable to spend significant time with your crush in person, focus all of your energy into texting them regularly.
BE YOURSELF
The most important thing to remember when flirting with your crush is to be yourself. Under no circumstances should you ever change for anyone- not even for your crush. You can boost your confidence and put more effort into your physical appearance, but don't become a completely different person. If your crush's favorite color is green, don't replace all of your clothes with green outfits. Stay true to who you are and what you love while flirting with your crush. Your crush will know if you lie to them or exaggerate the truth in any way and it will come back to get you later. Use your confidence to remember who you are and why you love yourself. Then use that same confidence to go out and flirt the socks off of your crush!
Lastly, before you decide to flirt with your crush, check their relationship status. If they have a significant other already, it may be time to let this crush go. Getting in the middle of a relationship will only cause pain and problems. However, if they're single and the coast is clear, go for it! Flirt with them until you're comfortable taking your relationship a step further by asking them on a date. With these tips, you'll be dating your crush in no time at all!
Click Here: Advanced Attraction and Dating Guide