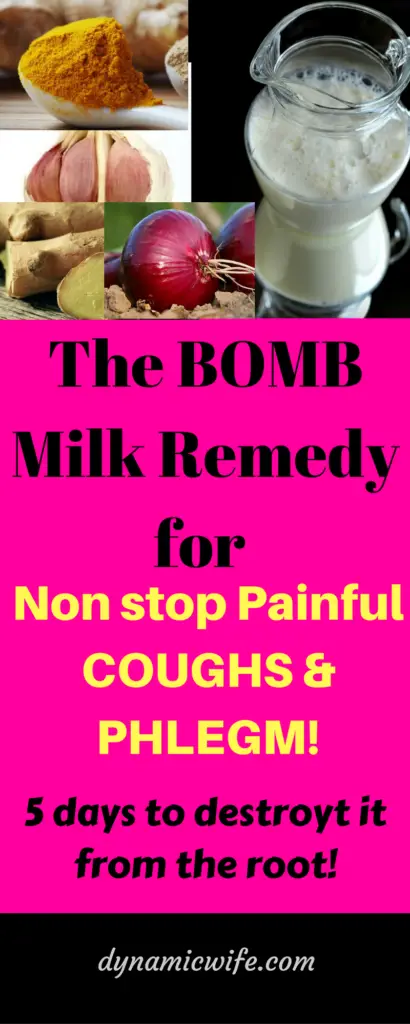 Disclaimer 1: If in doubt about trying out something you just read on the internet, just like this cough milk recipe, ask someone wiser like a doctor or someone before going for it.
This is a must do for women who're pregnant, trying to conceive or people on serious medications. I'm just merely letting you know about an awesome cough milk recipe that worked for my mother.
So anyways, my 46 years old mother has way too many health conditions I believe, for a woman her age. She's a pretty fit woman, compared to her 25 years old daughter, me. Sad.
Her latest addition is this nasty 24/7 cough she's been having since 2 weeks ago. Day and night, even people on the street can probably hear her coughing.
The sound of her coughs were so damn scary like something is about to happen to her any second, you know what I mean.
I don't normally pay much attention because she already has a bunch of things she's dealing with, but damn this cough was so bad that I started panicking for her.
Sometime back, I bumped into a garlic milk remedy for coughs but I added some extra ingredients to make it extra powerful. I gave it to her every night before bed, for 5 days and, BOOM!
Her coughs are hardly there now. It just makes me feel like, if this remedy can work for my mother, it can work for anyone. That's how terribly bad and painful her cough was.
The 4 key ingredients in this powerful cough milk recipe are Garlic, Turmeric, Ginger, and Onion. Just by looking at those ingredients, can you already tell it's gonna be a bomb remedy for painful coughs and phlegm?
Those things are loaded with antioxidants, anti-inflammatory properties, and immune boosting properties. Basically, all the good stuff needed to kill that cough and phlegm from the root within 5 days of use.
What you will need:
5-6 fresh garlic cloves (peeled/ lightly crushed)
1 teaspoon of Turmeric
3-4 fresh small onions or 1 medium size onion (peeled/crushed a little)
1 ½ inch fresh ginger: lightly crushed
1 cup of milk to boil
Peeling the skin of the Garlic, Onion, Ginger and crushing them a little bit helps to allow all their goodness to soak into the milk faster.
How to make this incredibly powerful cough milk remedy:
Boil the milk in a pot on very low heat.
Add in all the ingredients and give it a quick stir.
Watch until the milk starts boiling and turn off the heat.
Leave it as it is for 10 minutes.
Sieve the milk in a cup before serving.
Make sure the milk is warm-hot, but not friggin boiling when you're drinking it.
What to do after + Warning:
Repeat for at least 5 days in a row for best results. It's gonna taste pretty awful and strong, but tell that person, whoever you're going to make this for, to see it as a medicine.
Medicine tastes awful, but you gotta have it if you want to be healed right?
ALSO: It's best to do this 30 minutes before bed, or first thing in the morning.
Do you or someone you know suffer from Chronic snoring like my mom? These snoring remedies might help.
Read also: How I helped my aunt get rid of her extremely cracked feet with 3 simple ingredients. You really have to see the before and after photos of her feet yo!
Let me know how it works out if you do give this cough milk recipe a try. Feel free to share any other cough remedies that have truly worked for you.