Unfortunately, the butt enhancement pill industry is a popular and profitable business. This is unfortunate because, while some of these pills can be effective, they are filled with chemicals and take a long time to work. A butt enhancement pill is far from the first step you should take if you want to get a bigger butt.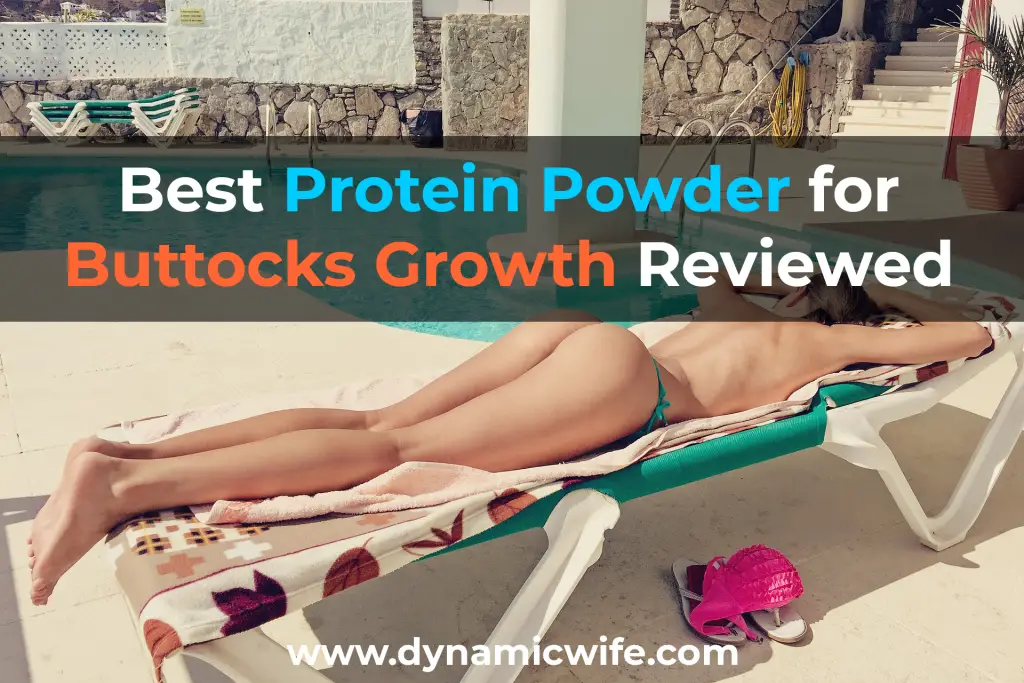 There is one natural ingredient that can grow your butt like no other. However, this ingredient is oftentimes overlooked when it comes to growing your butt. This ingredient, of course, is protein.
Protein is a macronutrient that strengthens both bones and muscles. It is also key to getting a large and strong booty. Here's why protein is so important to bum growth:
Does Protein Make Your Butt Bigger?
When protein is discussed as a crucial element to increasing the size of your bum, it's important to note that it alone cannot give you a big butt. You can't sit on the couch and watch TV all day while drinking protein shakes and expect your butt to become huge overnight. It would be great if it was that easy- but it's not.
Protein, while important, is just one element in the booty-growing process.
Protein is crucial because it is the macronutrient responsible for muscle growth, as well as muscle recovery. [1] The gluteus maximus cannot become larger without this muscle-enhancing nutrient.
When you perform common butt-enhancing exercises, such as squats and hip thrusts, tiny tears appear in your buttocks. When you feel sore the next day after an intense workout, this is why. It isn't the creation of the tears that grows your bum- it's the repair of these tears, which can only happen when you consume enough protein.
If you don't eat enough protein, your muscles won't be able to repair properly and your butt will therefore not be able to grow. But how can you eat enough protein?
How Do You Get Enough Protein for Butt Growth?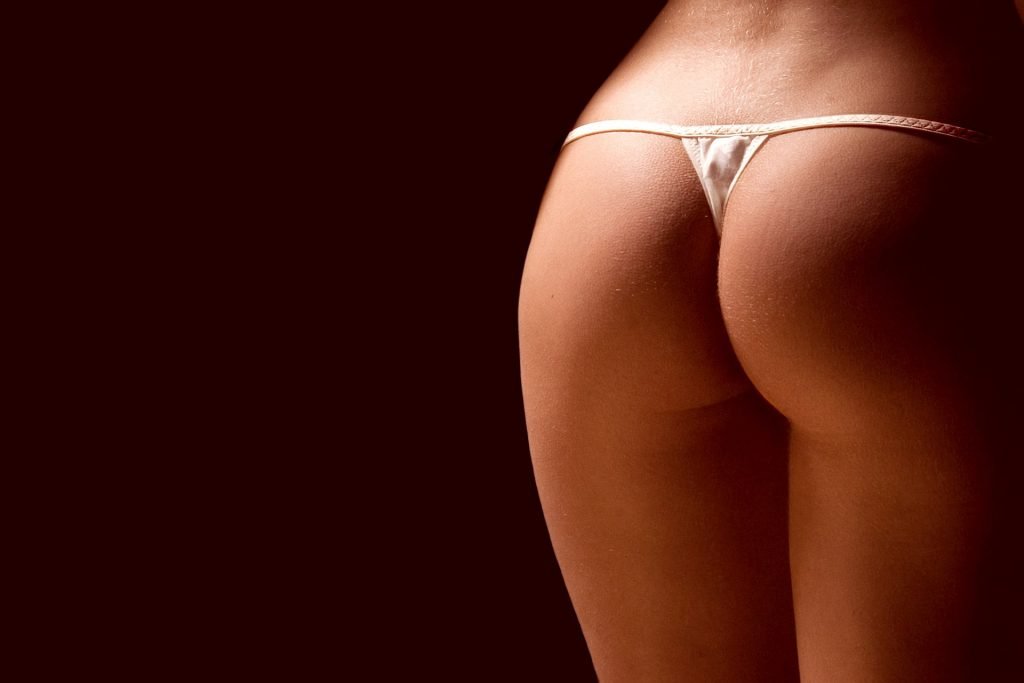 Protein should make up 10%-35% of your daily caloric intake. [2] However, this number should be closer to 35% if you are trying to build your gluteus maximus muscles to get a bigger butt. While protein alone cannot give you a big butt, it is important. However, what's even more important is that you get enough protein.
Getting enough protein starts with doing your research. What are common sources of protein? Are those sources accessible to you? However, when doing your research, you may realize just how much you'll need to eat to meet your daily quota! This is why it's best to look for food that's high in protein and low in fat and carbohydrates.
There are plenty of protein-rich food sources, but you should also keep in mind that processed food options and fast food protein options will hinder your butt-growing process. When trying to get a bigger booty, it's best to cook all of your food yourself. This makes it easier for you to get the precise amount of protein you need along with the crucial amino acids found in certain proteins that are needed for muscle growth and repair. Here are some common protein superfoods:
Eggs
Lean beef
Beans and legumes
Chicken breast
Turkey
Fish (salmon, tuna and tilapia)
These may sound like some healthy and delicious protein options- and they are- but what if you don't have the time to prepare this food on a daily basis? If you are constantly on the move, but still want to get enough muscle-building proteins, there is an option for you: protein powders.
What's the Best Protein Powder for Buttocks Growth?
A brief stroll down the health foods aisle at your local grocery store will show you just how many protein powders there are. If you're new to the booty-growing process- and to protein powders- this can be quite overwhelming.
You may be wondering how you could possibly choose the best protein powder when there are so many options. Which protein does what? Most importantly, which protein can grow your bum the fastest? All of these are crucial questions. Let's go over the protein powder basics so you can find the best powder for you.
Whey protein
Whey protein is by far the most common protein powder, as well as one of the most effective. [3] There are several reasons why this is the case.
First, whey has high amounts of branched-chain amino acids (BCAAs). There are several types of amino acids- all of which have different functions. BCAAs are the amino acid directly responsible for growing and restoring muscle tissue.
Second, whey protein absorbs into the body very quickly. With muscle recovery, it's important that you use an absorbent protein powder because muscle recovery needs to happen as soon as possible. [4] Whey digests in the body quickly and is also full of peptides, which increase blood flow.
If whey protein is consumed 30 minutes or less once your booty workout is finished, you will see the best results. However, whey can also be consumed half an hour before a workout to push some fat into your system. This is a crucial step in the booty-building process because if you don't eat something before working out, your body will burn muscle while you exercise. [5] Another option for whey protein consumption is drinking some as soon as you wake up. However, the most important rule to follow is to consume bum-enhancing protein both before and after you exercise.
Another benefit of whey protein is that it is one of the most affordable types of protein powders. It does come from cow's milk, but those who are lactose intolerant can take whey protein isolate, which is whey protein minus the lactose. It is just as effective.
Casein protein
While not as popular as whey protein, it can also be a useful protein powder to take for booty growth. Casein protein is digested in the body slowly and can be taken at several times during the day for muscle growth and recovery. [6]
If you take casein protein before bed, your body will be able to absorb the macronutrient overnight. However, casein protein can also be used as a meal replacement. Because this protein doesn't digest quickly, it can release into your system slowly. If you're someone who moves around quite a bit, this can be a great option for you.
However, studies have shown that casein protein is most effective when taken directly after a workout. Casein is a type of protein that increases muscle protein synthesis, which is needed during the muscle recovery process.
Blend Protein
Blended protein is the most comprehensive type of protein because it is a mix of both casein and whey protein. This type of protein powder is the most dynamic because it is a combination of both fast and slow release proteins.
Blend protein is an effective post-workout supplement because it is stronger than both types of protein individually, so muscle growth and recovery is enhanced. [7]
Top 3 Protein Powder for Buttocks Growth
Now that you know more about the best types of protein- whey, casein and blend- you can get a better understanding of which exact protein powders you should buy. Although these are only three types of protein powder, there are endless specific types of each. If you want to grow a big butt, here are the top three protein powders you should try:
Real Whey Protein Isolate
There are a plethora of whey protein powders that you could buy. However, not all of these powders are digested easily and they may also contain unhealthy or dangerous extra ingredients.
When taking a protein powder supplement, you need to do thorough research. It's important that you know exactly what you're putting into your body. When trying to grow a bigger butt, you should be taking protein powder daily. If you purchase a harmful protein powder, you could be in big trouble.
Common added ingredients to protein powders include both sugar and artificial sweeteners. Eating large amounts of either of these daily could seriously hinder your booty-building process.
For this reason, the best whey protein powder is Realist Lifestyle's Real Whey Protein Isolate. This whey protein has the least amount of added ingredients of any on the market. In fact, there are only two ingredients in this powder! It's also affordable and won't cause any stomach discomfort.
This powder is 99% whey protein isolate, which is nearly completely pure. The highest amount of pure whey protein isolate in a powder, the less lactose it contains.
Legion Whey+ Whey Isolate Protein Powder
While clean whey protein powder is clearly the healthiest option, it isn't always the tastiest. If you want an effective whey protein powder that also has a bit of much-needed flavor, Legion's Whey + Protein Powder is what you should try.
Not only does this protein powder come in several delicious flavors like Chocolate, Eggnog, and Cookies and Cream, but it is also flavored naturally. All of the flavors are free of dyes, additives and artificial flavors and sweeteners.
Most importantly, the whey protein in their powder is sourced from cows that were not treated with antibiotics or hormones. It's by far one of the cleanest and most delicious protein powders you could try.
Syntha-6 Blend Protein Powder
As far as blend protein powders go, Syntha-6 is the best option. It has the perfect balanced mix of whey and casein proteins and is not lacking in either nutrition or flavor.
The Syntha-6 flavors are not only yummy, but also unique. Who thought you could have a peanut butter cookie flavored protein shake? When you drink this protein shake after an intense booty workout, it truly feels like a reward for all of your hard work.
This powder has 22 grams of blended protein, along with amino acids essential to growing your butt and recovering its muscles. While this protein powder is protein-rich, it is not carb-heavy. There are only 15 grams of carbohydrates in a single serving! The texture of the protein powder is also extremely smooth, which means it's easy to take in a blender bottle on the go.
If you don't have a Blender Bottle, then you're missing out! While it can carry any liquid, it's most often used to mix protein shakes on the go. No matter how far you live from your gym, you could bring Syntha-6 with you in a blender bottle and have your shake right after your last set.
Tips on Taking Protein for Buttocks Growth
Contrary to popular belief, it's not difficult to consume enough protein when trying to build your booty. With the help of protein powders, especially, taking protein has never been so easy or convenient!
However, not everyone is satisfied with drinking the same protein shake every day. If you want a few more creative options for protein intake, here are a few:
Protein coffee: If you're like most people, coffee is the first thing on your mind when you wake up in the morning. But did you know that you could use your caffeine addiction to your benefit? WodFee now offers a Protein Coffee that will satisfy your caffeine craving, while also giving you the benefits of pure whey protein sourced from grass-fed cows.
Eggs: Eggs are one of the quickest and easiest foods to cook. They are also one of the most protein-rich. You can eat eggs for breakfast or hard boil them and have them as a snack! If you need a carb-free protein boost either before or after your workout, eggs are a great option.
Nuts: Nuts are a convenient and tasty snack. They contain high amounts of both protein and good fats. They are also easy to bring with you when you're running errands, as you can just throw a few in a ziplock bag.
Vegan and vegetarian options: Even those who don't eat meat or dairy can find effective protein sources to help them grow big butts. The most convenient options would be beans and vegan protein powders. Orgain Organic Plant-Based Protein Powder is both yummy and effective.
Protein bars: Protein bars are another convenient, protein-rich snack. These are easy to keep in your purse or gym back and can also be quite filling. They have high levels of protein and there are so many flavors to choose from. While there are many different protein bar brands, RX bars are tasty and the best for you, as they are made using only natural ingredients.