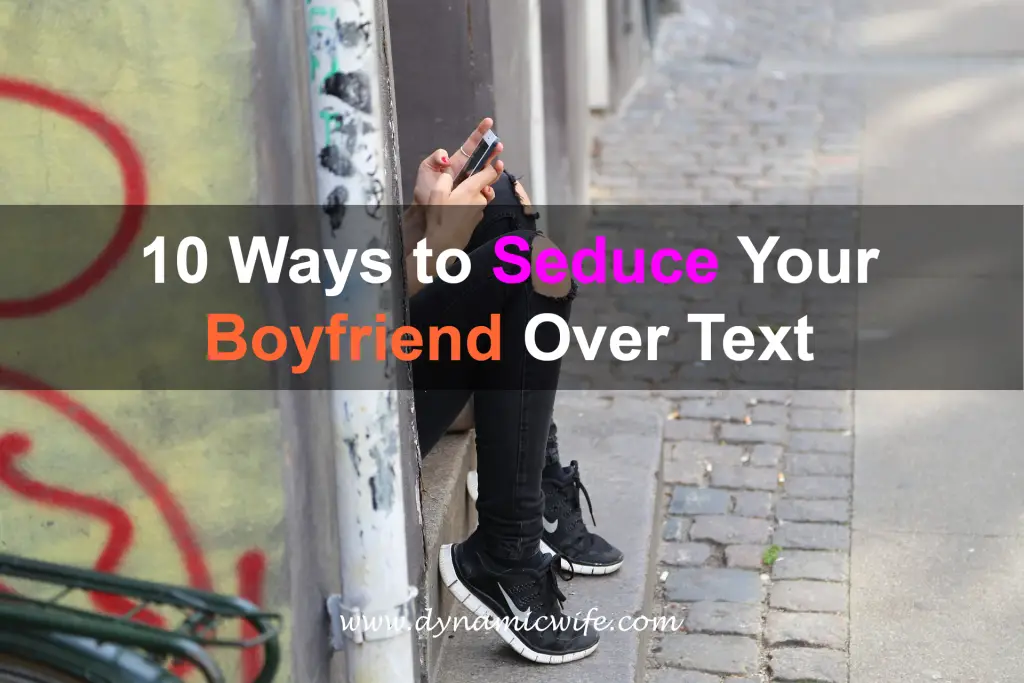 When you're in a relationship, it's important that you know how to seduce your partner. With these tips and techniques, learn how to seduce your boyfriend over text and turn him on without any physical contact whatsoever.
Without passion and romance, a relationship will die out. That's why it's so important that you keep the flame of passion burning every single day of your relationship. Contrary to popular belief, you don't need to plan something elaborate to keep your boyfriend interested in you. It's the little things throughout your day that can keep him turned on. If you want to learn more about how to seduce your boyfriend, here are 10 ways to use texting and in-person interactions to do just that. If you follow these tips, the special person in your life will fall in love with you more every day.
USE SMILEY EMOJIS
Whenever you text your boyfriend, be sure to start out by sending a cute smiley face. This will make your boyfriend smile himself knowing that he makes you happy, even when you're just texting him. Then proceed to ask him about his day, paying careful attention to details. Don't ask the same questions every day; instead, stay up to date with his daily routine, friends at work and hobbies so you can have a dynamic conversation.
TELL HIM YOU MISS HIM
Nothing will make your boyfriend feel more loved and valued than hearing that you miss him. However, if these texts are random, it's even better because it shows him that he's on your mind even when you're apart. Communication is so important for a relationship, so speak with him throughout the day and let him know how much you care about him. You can even make these texts extra sweet by saying how much you loved seeing him during your last date.
SEND PICTURES
Very few couples are together 24/7- that's why texting is so great! However, you can send more than just words when it comes to messaging. If your boyfriend has a favorite outfit of yours or some lingerie that really turns him on, why not send him a selfie of you wearing it during the day? Don't wear anything you're not comfortable in, but it's always a nice surprise for your boyfriend to even get a selfie of your beautiful face. Send him a kissy face selfie while he's at work and it will drive him crazy! This is one of the easiest ways to seduce your boyfriend over text. He loves seeing your face when he gets to spend time with you, so why not send him selfies when you're apart?
FLIRT
Flirting with your boyfriend and showering him in compliments is a guaranteed way to seduce him over text. Let him know what it is about him that you like- both physical and in relation to his personality. Not only will this turn him on and make him happy, but it will increase his confidence. By flirting with your boyfriend over text he will know how often he is on your mind and what about him you like the best. He may even try to enhance what you like about him most to make you happy! However, you can also flirt dirty if you're comfortable with that. Send him intimate, detailed messages and there's nothing that will turn him on more!
SEDUCTION TIPS:
If you are comfortable flirting with your boyfriend, but don't know how to do it over text- don't worry. You can learn how to seduce your boyfriend over text fast! With the advancement of technology as come not only new ways to keep in contact, but new ways to keep relationships fresh and interesting. Most people spend more time on their cell phones and computers than they'd like to admit! With the invention of social media websites, texting apps and photo-sharing apps, we are always connected to the internet. So why not use that to your advantage? Text message seduction is an art, but it's not a very complicated one to learn. Flirting over text to seduce your boyfriend is special because you can make the messages reflect your unique personality. It's not hard to learn how to seduce boys over text if you use these tricks:
Decide your flirting personality: The way that you text will indicate how you will flirt over text. If you're a very forward and sexual person, you may be comfortable sending your boyfriend spicy messages. However, this should only be reserved for couples in serious, committed relationships- otherwise it can get a bit awkward! Make sure that your boyfriend is up for this before you go ahead and send risque messages.
Start casual: When trying to seduce your boyfriend over text, it's important to start slow and build up. If you send him a vulgar text right off the bat, he won't be able to ease into the conversation and enjoy it. Instead, start by sending a vague, but suggestive message. Then, use his response to gauge how you want to act for the remainder of the conversation.
Don't underestimate the power of pictures: If you're new to seducing your boyfriend via text with flirting, then you may not feel comfortable writing explicit messages just yet. And that's okay! So why not start with pictures? Even if you just send a picture of yourself blowing a kiss at the camera, it's a great place to start. However, remember not to send nude pictures, as that can be too risky.
Be adventurous: Flirting over text is great because it gives you the chance to say things that you normally wouldn't! Be adventurous! Dare yourself to admit your wildest fantasies! This will make your boyfriend both turned on and open to sharing his fantasies with you!
Be polite: Remember not to be offensive or vulgar. The best way to build up the expense while flirting over text is to take things slow and use implications to seduce your boyfriend, rather than express explicit desires.
Be respectful: If your boyfriend isn't comfortable being intimate over text messaging, then respect his wishes! If you try to flirt over text and he doesn't respond well to it, then that's okay. There are other ways to keep your romance alive!
Don't drunk text: If you have been drinking, avoid sending any dirty texts to your boyfriend because you might go too far and regret it in the morning.
Practice: Practice makes perfect! Try out these seduction via text techniques and see what works best. You can always make adjustments as you go along. If he enjoys your promiscuous texting, then you can also get a better idea of what he'll like in person. By the time you see him next, the desire will be burning!
WAYS TO SEDUCE YOUR BOYFRIEND IN-PERSON
Show affection: When you are with your boyfriend in-person, there should be no shortage of love and affection. Hold hands, kiss passionately, whisper sweet nothings into his ear and give him plenty of hugs. Affection is what can keep a relationship going strong!
Be spontaneous: Routine can be comfortable, but it can also make relationships dull. Don't let that happen! Keep things interesting by trying new restaurants, going on fun dates and even just having deep talks. It's important that you and your boyfriend are both on the same page and are still passionately in love. You two will become a stronger couple if you try new things and step out of your comfort zones together.
Have a weekend getaway: To spice things up and keep your boyfriend turned on, why not spend a weekend away together? Invite your man to go on an adventure with you a few hours from where you stay. You can get spa treatments, go to the beach and just enjoy each other's company away from daily responsibilities. Weekend getaways are a great way to reignite the passion in a relationship and make lifelong memories.
HOW NOT TO SEDUCE YOUR BOYFRIEND
Fight: Avoid fighting whenever possible. It is a leading passion-killer. Some arguments are normal, but if you and your boyfriend begin fighting regularly, it will become harder to seduce him. Neither one of you will want to be around the other! Keep the peace to avoid straining your relationship- especially if you think your boyfriend could be "the one." In order to seduce your boyfriend and be in a sustainable relationship, it's important that you limit fighting.
Be routine in your sex life: If you do the same thing every time you and your boyfriend are intimate, you will both get bored. If you make love in the same place all the time, try somewhere else! Move from the bed to the couch! Make intimacy spontaneous to avoid falling into a boring routine. If you and your boyfriend have been together for several years, it's all too easy to fall into a routine without even noticing it! If your partner agrees, you should both try new things in bed. You don't want making love to become a chore! Try making love in new places and different positions to spice things up. Seduction can't work without intimacy, passion and love.
Click Here: Advanced Attraction and Dating Guide