Vicks vapor rub for hair growth?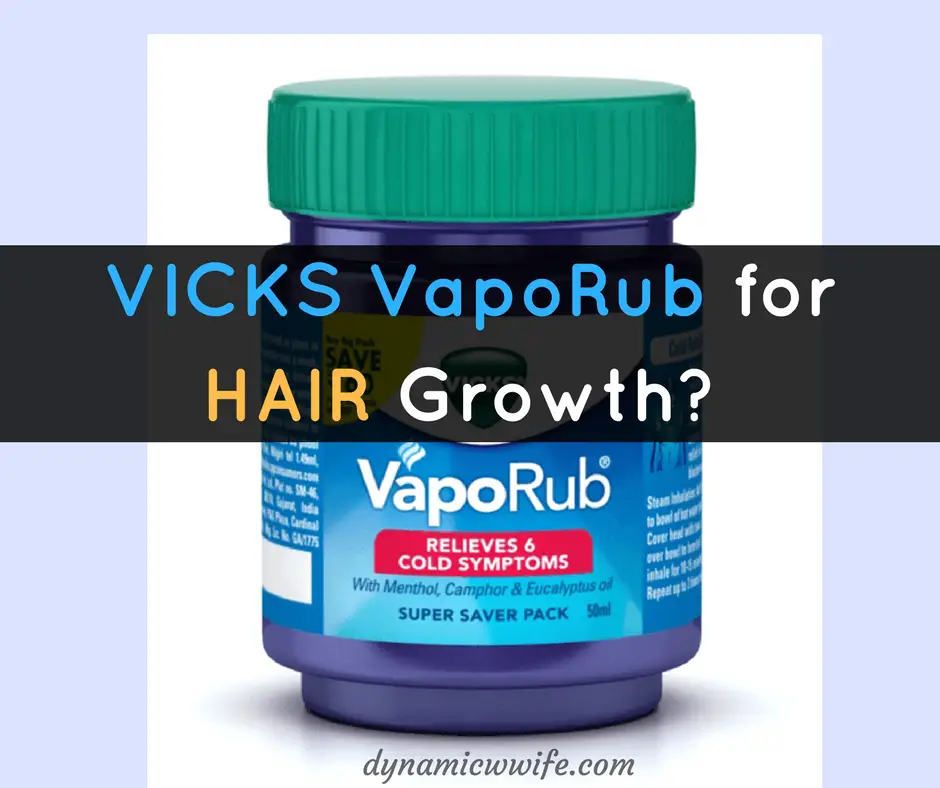 Apparently dealing with cold and fever symptoms is not the only use of Vicks.
A lot of women on YouTube are rubbing Vicks Vapor Rub on their scalp to grow hair and to recover hair loss.
So when did this hair growth trend begin?
As far as Google is concerned, the Vicks vapor rub for hair trend has been around since 2003.
That's 15 years.
It could have been around for longer than that who knows but it has been gaining popularity again because of YouTube beauty gurus claiming it helped with their hair growth.
Before we have a look at the science (if any) behind the Vicks hair growth trend, let's see exactly how it's being used for "hair growth".
How are they using Vicks Vapor rub for Hair Growth?
According to a YouTube channel that has been gaining a lot of popularity for this trend, this is how you're supposed to use Vicks Vaporub to grow your hair.
You just take a tiny pinch of the Vicks Vaporub and start massaging your scalp with it. Depending on your hair type, you might have to part your hair to apply the product directly to your scalp.
You can take more as needed but you've to be careful not to put too much and get it into your eyes.
Once you've applied it to your scalp, wait for 15-20 minutes and then wash it off with your regular shampoo.
Or you can also use the "dry washing method" demonstrated by this YouTuber:
Why are they using Vicks for hair?
These are the popular claims behind the Vicks vaporub hair trend:
Stimulates blood flow to the scalp.

Kills scalp bacteria.

Tingling sensation means "it's working".
Vicks Vapor Rub Ingredients and Science
These are the active ingredients of Vicks Vaporub:
Synthetic Camphor oil 4.8%:
Camphor oil is extracted from the wood of the Camphor Laurel tree which is known as an evergreen tree in Asia.  
It's highly flammable and is widely used as a religious burnt offering in India.  It has anti-inflammatory and analgesic properties [1].  H
However, the Camphor oil in Vicks Vaporub is synthetic. This means it was made via distillation of turpentine [2].
The vapor of Turpentine oil has been used by people to relieve chest congestion. The oil is also used for muscle pain, joint pain, and toothaches. It is for these reasons that Turpentine combined with Camphor has been used as an active ingredient in Vicks Vaporub.
According to WebMed, Turpentine oil is NOT safe when taken by mouth or used over a large area of skin. Our scalp is pretty large and sensitive.
Spotted the red flag yet?
Eucalyptus oil – 1.2%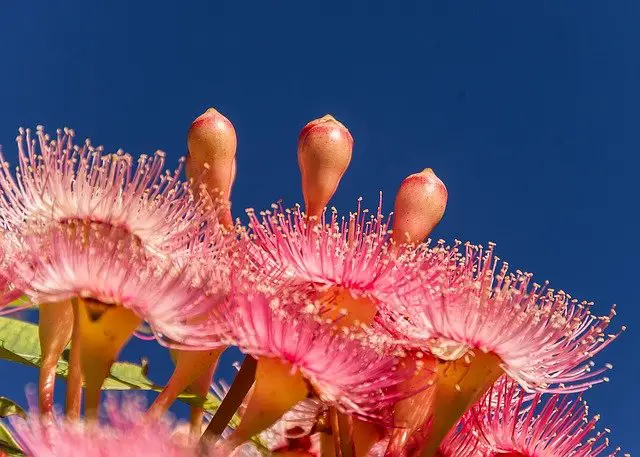 Eucalyptus oil has antiseptic and anti-inflammatory properties.
The inhalation of eucalyptus oil has been found to be effective in reducing pain, swelling and, inflammation [3]. This is why it's the second active ingredient in Vicks Vaporub.
EO is generally considered one of the safest oils for inhalation in the pharmaceutical industry [4].
For these reasons, EO can be used with another carrier oil (Jojoba, Olive, Almond, etc) to treat scalp bacteria and to stimulate blood flow.
Menthol – 2.6%
Menthol is usually obtained from the peppermint plant and it's widely used in the medical and cosmetic industries for various purposes [5].
Menthol is the third active ingredient in Vicks due to its cough suppressant and analgesic properties [6].
If applied to the scalp, Menthol would work in the same manner as the Eucalyptus oil. However, it would make more sense to apply diluted Peppermint oil because PO has actually been proven to work for hair growth and Menthol comes from PO [7].
Frequently Asked Questions (FAQ)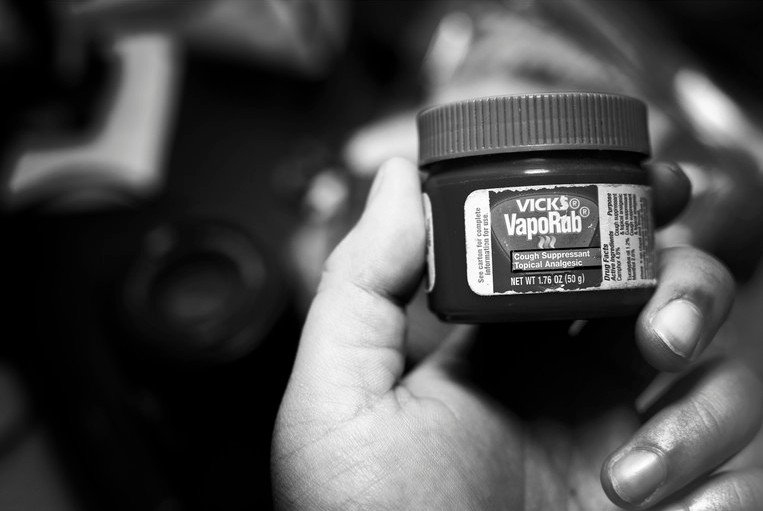 These frequently asked questions and answers were given by a YouTuber who seems to be getting the most credit for this Vicks Vaporub hair treatment. It's a short summary of the important questions and answers from her 16 minutes video.
The below information is purely based on her opinions and it's only for those who desperately want to try this hair growth method.
Is it going to work on all hair types?
No. If you have the option of washing your hair every day then the Petroleum in Vicks will not benefit your hair. This is her opinion and she did mention to try it if you really want to.
Is my hair going to grow overnight or within a week?
No.
How long does it take for Vicks Vaporub to work for hair growth?
It's recommended to give yourself at least 30-60 days before drawing any conclusions.
Can I leave the Vicks in my hair overnight?
No. Leaving it overnight can cause side effects such as headaches and you only need to leave on in your scalp for 15 -20 minutes.
Can I put Vicks on a child's hair?
Do not put this on anyone under the age of 12.
Can you apply this to sensitive scalp?
If you have a sensitive scalp, you can dilute the Vicks Vaporub with your choice of hair oil and apply it. Mix 1 part Vicks with 3 parts of your hair oil.
How often to do it?
2-3 times a month.
How long should you leave the Vicks Vaporub in your hair?
15-20 minutes is the recommended time limit for those who claim to have had success with it.
Warnings given by beauty gurus:
Do not leave it overnight.

Do not do it every week.
Bottom line: Should you use Vicks Vapor rub for hair?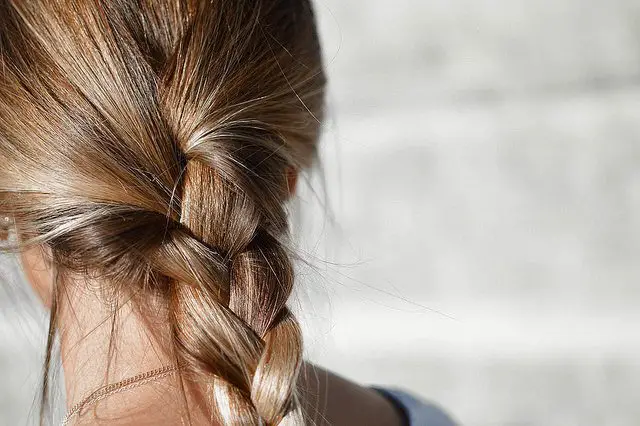 We've not come across any stories of women having serious adverse effects from using Vicks on their hair.
However, there's a huge lack of evidence when it comes to the before and after photos of all the YouTube gurus claiming that Vicks Vaporub helped with their hair growth.
It would be nice to see some real before and after photos. Don't you think?
As far as research is concerned, The Eucalyptus oil, Camphor oil, and, Menthol found in Vicks could provide some stimulation and follicle cleaning effect to the scalp, but it's important to remember that the Camphor oil found in Vicks is synthetic and not in its purest form.
And it's also important to remember that Vicks contains Petrolatum which is used in cosmetic products such as Vaseline. It's used for it's occlusive and sealing properties.
It's known to have water vapor loss resistance level of 170 times more than olive oil but is cosmetically less acceptable because of its greasiness [8].
If you have dandruff, oily scalp, or live in a hot humid climate, putting on Vicks Vaporub on your scalp might actually make things worse.
Still, want to join the Vicks vapor rub for hair bandwagon?
Just make your own DIY Vapor hair oil using a few drops of Eucalyptus oil, camphor oil, Peppermint oil and your choice of carrier oils such as Jojoba oil, Olive oil, or Almond oil.
Here is some of the most viewed videos of women using Vicks VapoRub:
Video 1: What Vicks Vapor Rub Did To My Hair
Video 2: Stop Using Vicks Vapor Hair Treatment Until You See This Q & A
Video 3: Fast Healthy Hair Growth with Vicks Vapor Rub to Stimulate Growth
What's your take on Vicks Vapor rub for hair?
Have you tried it and had any success?
Please let us know in the comments below.