From Kumquat benefits to how to eat them, you'll learn everything you may want to know about Kumquats in this guide.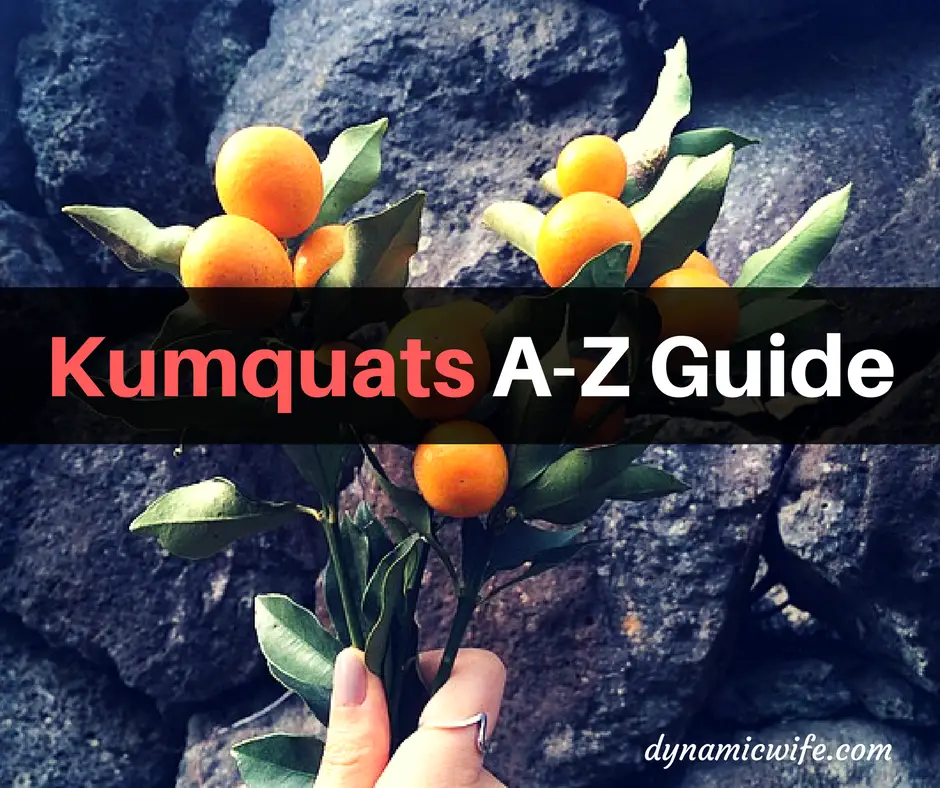 What is a Kumquat?
Kumquats are one of the smallest members of the citrus family ( Rutaceae). They are said to be native to China.
Kumquats can also be found in North and South Korea, Middle East, U.S, Japan and some other countries.
What sets them apart from other members of the citrus family is that Kumquat outer skin can also be eaten and it's sweet.
There are 3 main varieties of Kumquats:
Nagami Kumquat:

football-shaped and most common in markets.

Meiwa Kumquat:

round shaped and one of the best.

Fukushu Kumquat:

a little bit larger and has a thicker skin than the other 2 types. Very sweet kumquat.
What does a Kumquat look like?
Kumquat is about the size of an olive or a little bit bigger and has the appearance of a mini oval-shaped orange. It's also one of the smallest members of the citrus family.
What does a Kumquat taste like?
One big difference between an orange and a Kumquat is that the sugar content of Kumquat is actually in its outer skin.
The inside juice of the Kumquat has a sour taste similar to a lemon and the outside skin is sweet so it has a sweet and sour taste.
However, if you were to eat them raw (which you can) like any ordinary fruits, you'll taste the sour part of the Kumquat as soon as you pop it into your mouth but it will get sweeter as you continue to chew on its skin.
In simpler terms, Kumquat tastes like a sweet and tarty orange.
Kumquat Benefits & Uses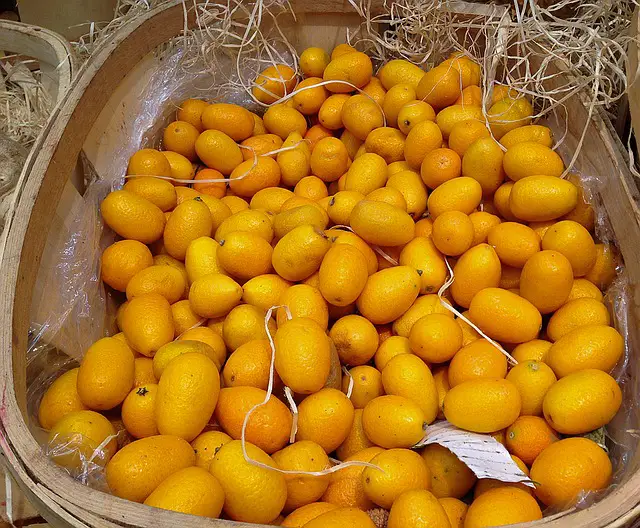 Fights Gram Positive, Gram-negative bacteria, and Fungus
One of the best health benefits of Kumquat is that it seems to have great antimicrobial activity against the hard to fight bacteria and fungus.
The essential oil of the Meiwa Kumquat (Fortunella crassifolia) has been found to show antimicrobial activity against both Gram-negative, Gram-positive bacteria, and fungus.
Kumquat essential oil has been suggested as a potential food preservative ingredient bacteria or fungus and that it can also help extend the shelf life of food items [1].
2. Natural color and flavor agent in Ice cream
In a 2016 study, Kumquat paste was added to ice cream mix at different concentrations. The study found out that adding this paste to Ice cream mix enhanced the color, flavor, Vitamin C, Mg, and K contents of the ice cream.
They also concluded that Kumquat paste can be used as a natural source of color and flavor agent in ice cream production [2].
3. Rich source of bioactive Polyphenols
Polyphenols are plant-based compounds that are loaded with antioxidants. Studies have found Kumquats to be a rich source of Polyphenols [3].
4. Packed with Vitamin C
Some signs and symptoms of Vitamin C deficiency include scurvy, gingivitis, and hemorrhages [4].
Kumquats are a great way to get your daily dose of Vitamin C.
5. Kumquats are also rich in Carotenoids
Carotenoids are plant-based pigments that give some vegetables and fruits their bright colors.
They act as antioxidants and help prevent several health issues such as photoinduced tissue damage, enhancing immune response and, inhibition of mutagenesis [5].
Kumquat Tree Facts
Kumquat tree has mini flowers that resemble Jasmine and smell very sweet. They will often attract bees which is great for pollination of the tree.
Kumquat trees are easy to grow. Kumquat trees can tolerate seaside environment.
They will look beautiful and decorative like bonsai trees when they start bearing fruits.
They can withstand cold temperatures up to 18 degrees Fahrenheit/ -8 Celsius.
Kumquat trees are self-pollinating trees.
Kumquat trees can be grown both indoors and outdoors.
How to grow Kumquat trees
It's recommended to buy a Kumquat tree instead of growing it from its seed because the fruit-bearing process can take longer if it's grown from the seed.
Here is a Nagami Kumquat tree from Amazon
However, if you want to grow it from its seed, the germination process for Kumquat seed is the same as any other citrus tree.
You should only water the Kumquat tree if you can see that it's dry. You can feel the soil with your hand to see if it is and water accordingly.
Pruning the tree can slow down the Kumquat trees from fruit bearing.
If you wish to grow your Kumquat tree in a pot, add some gravel or stones to help the water to drain.
Use fertilizers recommended for citrus trees.
---
How to eat Kumquat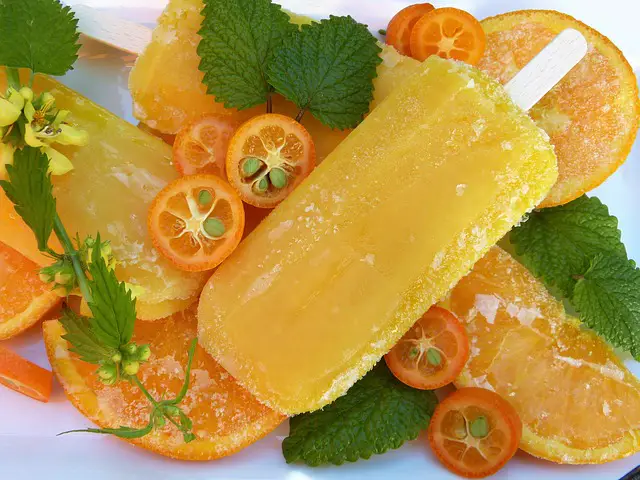 Kumquats taste fabulous when eaten raw or cooked. You can literally pick them from the tree and pop them into your mouth or enjoy them in Kumquat Marmalade, chutney, candies and so on.
As mentioned earlier, you can feel free to eat the outer skin of the Kumquat because that's where all the sweetness of the fruit is. Sweet outer layer and tarty inner layer.
Don't forget to throw out the seeds though unless you're planning on germinating them to grow Kumquat trees.
2 Popular Kumquat Recipes
Kumquat Marmalade
This is one of the most popular ways to eat Kumquats. People say that Kumquats retain their original taste even after being cooked into Marmalade.
If you don't have access to fresh Kumquats or simply don't have time to make the Marmalade, here's a good rated one from Amazon.
There are so many Kumquat Marmalade recipes on YouTube but this one is our favorite.
It's a delicious Kumquat Marmalade recipe with a Moroccan touch.
The cooking time for this recipe is around 25 minutes and Star Anise is the star of the show for this Marmalade recipe. It also calls for Orange blossom water, in the end, to give it the Moroccan touch.
The instructor says you can feel free to use Cinnamon and/or Cardamom in it as well.
Alia also shares a cool tip on how to check if your Marmalade is ready or not and also how to sterilize your jar containers.
Candied Kumquats
If you're someone with a sweet tooth, you'll totally love eating candied Kumquats.
We really like Tammy's candied Kumquats with a ginger twist. Adding ginger is completely optional but it will give the Kumquat candies a hint of the spicy flavor from the ginger.
We also liked how she molds them in Kumquat shape in the end.
Frequently Asked Questions (FAQ)

How big is a Kumquat?
Usually a little bit bigger than an olive or about the size of a mini cherry tomato.
Do you eat the skin of a Kumquat?
Of course, you do because the skin is where all the sugar content of Kumquat is.
Do Kumquat taste like Oranges?
Yes, they do but unlike oranges, the outer skin of Kumquat is where all the sweetness of the fruit comes from.
So as mentioned earlier, when you pop it into your mouth, you'll taste the inner sour juices of the Kumquat first and then you'll taste the sweetness of the skin as you continue to chew it.
Can you freeze Kumquat?
Yes, you can freeze Kumquats. You can wash and freeze them as a whole in airtight containers for up to 6 months.
For longer freezer life, you can wash and freeze in a sugar syrup made out of 1 part sugar to 4 parts water.
How long does Kumquat last?
In the refrigerator, Kumquats can last for up to 2-3 weeks. In the freezer, they can last for as long several months.
Can you grow a Kumquat tree indoors?
Yes, you can. Kumquats can be grown in various sizes according to your preferences.
How tall do Kumquat trees grow?
Kumquat trees can grow up to 8-15 feet tall.
How often should you water the Kumquat tree?
The Kumquat tree should always have a moist soil, not wet, dry or soggy.
You should water it whenever you can see or feel that the soil is dry.
Do Kumquat trees self-pollinate?
Yes.
Can my dog eat Kumquats?
Kumquats are not harmful to dogs but can sometimes have a laxative effect due to their high Magnesium content.
Can you grow Kumquats from their seeds?
Yes, you can but it may take longer to bear fruit than growing it straight from a Kumquat tree.
Kumquats grown from seeds will have the same taste as its parent tree.
When is Kumquat in the season?
Kumquats are usually in season from November till April.
Is it normal for Kumquat trees to drop leaves after the fruiting season?
Yes.
Have you ever tasted Kumquats? 
Feel free to share your experience and any tips you may have about them.