A detailed review of what It Works Keto Coffee is, if and how it works and everything else you need to know about it.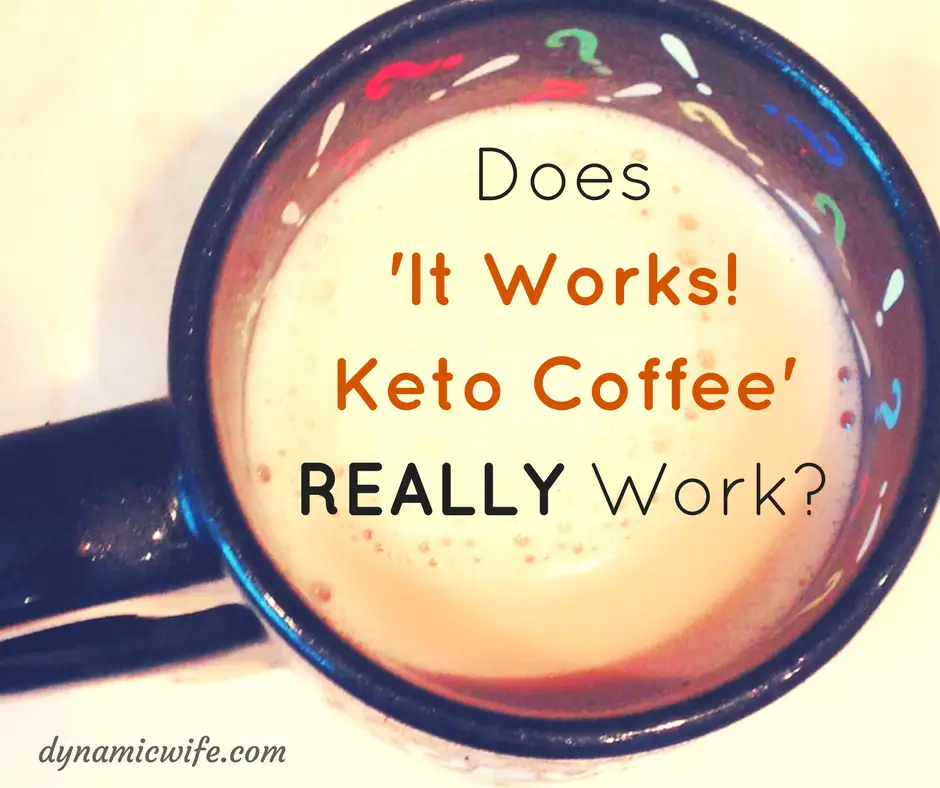 What on earth is It Works Keto Coffee?
That was my reaction when I first stumbled upon it earlier.  So what is it?
It's an instant powdered version of the bulletproof coffee with a couple of extra ingredients, made by the brand 'It Works!'. This brand is famous for their weight loss wraps and one of their latest popular addition is the 'It Works Keto Coffee'.
Let's talk a little bit about bulletproof coffee first.
Now I hope you know what a bulletproof coffee is? For those who don't, bulletproof coffee is a coffee with grass-fed butter and Brain Octane oil, MCT oil or Coconut oil. I love the taste of grass-fed butter and I love the taste of Coconut oil. I know they have proven health benefits, BUT, I'm not entirely sold on the "benefits" of bulletproof coffee, yet. However, I like the idea of using it to keep up with the daily fat requirement for my Keto diet. I also like the idea of using it during Intermittent fasting.
Speaking of which, I made and drank my first cup of bulletproof coffee today.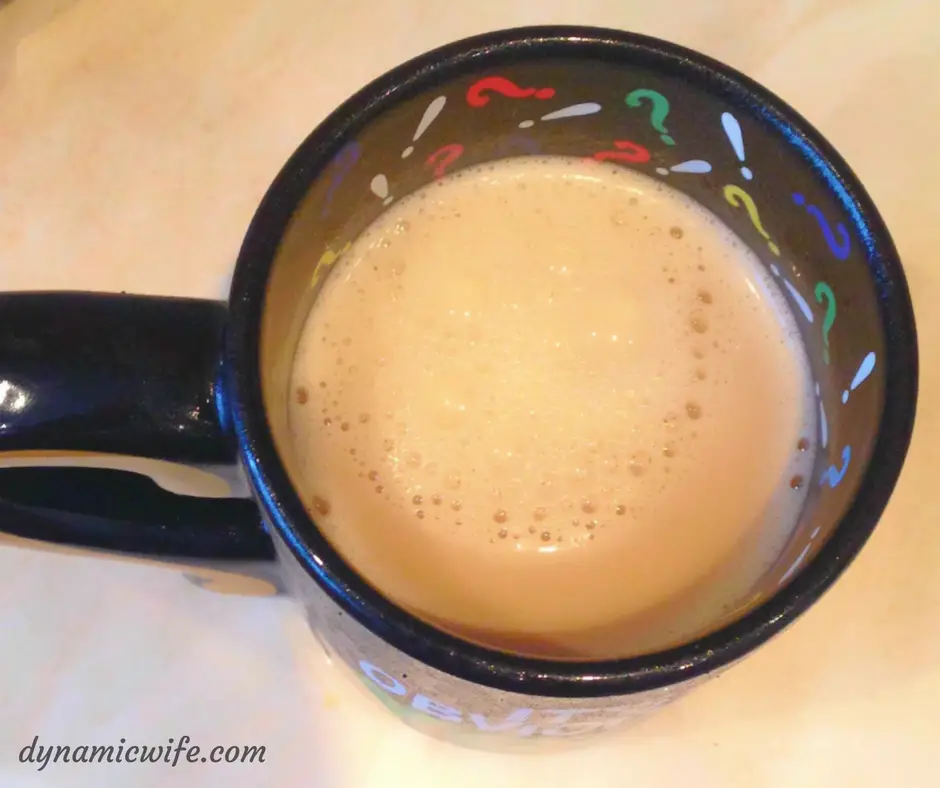 I made it with grass-fed butter (Kerrygold), Extra virgin Coconut oil and a pinch of Himalayan Pink Salt. I don't have a blender so I used a Milk frother instead.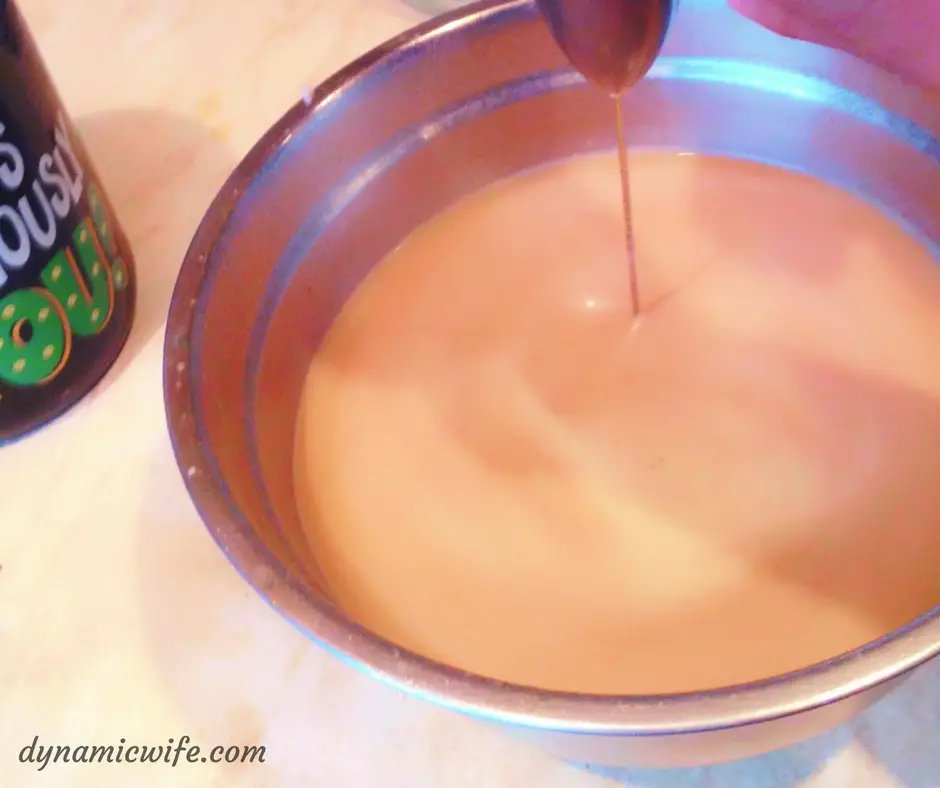 It did a fine job of blending and giving me a nice creamy cuppa! The milk frother is a cheap alternative if you don't have a blender. And it's travel-friendly! Now let's get back to the main topic.
It Works Keto Coffee Ingredients List
Instant coffee
Grass-fed butter powder
MCT Oil
Hydrolyzed collagen peptide
Xanthan gum
Himalayan pink salt
Milk
The ingredients in green are all you really need for a good cup of bulletproof coffee. A pinch of Himalayan salt is a great addition. Traditional Keto coffee doesn't require milk and hopefully, the milk used in it works coffee is whole-fat milk. Xanthan gum must have been added for its strong binding properties. It will help hold and blend the ingredients together and give this coffee its extra creamy texture.
Nutritional Facts
It Works Keto Coffee Calories per serving: 100
Fat per serving: 9g
Carbs per serving: 3g
Protein per serving: 2g
NOTE: Traditional bulletproof coffee has more fat (25g+) per serving and has close to zero Carbs.
Who is it suitable for?
Busy individuals who simply don't have the 5 minutes it takes to make a cup of bulletproof coffee.
People who're always traveling or working in places where it's almost impossible to make it.
Instructions
According to It Works, you've to mix one packet of the Keto coffee with 6-8 fluid ounces hot or cold water and drink. I wouldn't recommend drinking it cold, can't even imagine that but hey, your choice!
It Works Keto Coffee Benefits (Claims) vs Facts
Quick facts:
Soy free.
Non-GMO.
Instant on the Go coffee.
Their Claims vs True or False
'It Works' brand boasts of several claims credited to their Keto coffee. Let's discuss some of their main claims (or benefits).
Their Claim 1. The grass-fed butter and MCT oil in It Works Keto coffee helps increase ketone production and ketosis.
True: It is a known fact that at least 60-75% of keto diet consists of healthy fats because your body will start using fat for fuel instead of sugar. Research shows that grass-fed cows produce significantly higher omega-3 amino acids in milk compared to cows that feed on conserved grass (Hebeisen et al. 1993). The quality of fatty acids in grass fed butter also differs significantly when compared to conventional butter (Pustjens et al.2017). MCT oil has been proven to be more effective for ketosis than long-chain triglycerides (Liu and Wang.2013 and Nebeling and Lerner.1995 ).
Bottom line: Grass-fed butter and MCT oil do help promote Ketosis, however, more research needs to be done to determine if powdered grass-fed butter/MCT oil offers the same benefits as consuming the real thing.
Their Claim 2: Contains Collagen Peptides to build and restore your body's protein.
True:  Oral consumption of collagen peptides, when combined with regular physical exercise, has been proven to help increase muscle mass (Zdzieblik et al. 2015). It has also been found to have skin rejuvenating benefits (Asserin et al. 2015).
Bottom line: Their claim about Collagen Peptides is true but not sure about its effectiveness in coffee. We're good as long as it doesn't interfere with the main ingredients: grass-fed butter and MCT oil.
Somewhere in the process of my research on It Works Keto Coffee, I came across this review video from a lady who looks like she's working for this brand or one of their many affiliate partners.
At 5.27, she said: "You don't necessarily have to do the crazy Keto commitment if you don't want to…" And goes on to say "That's awesome but if you don't, you can still do low carbs and you're still gonna get the benefits of being in Ketosis from this Keto Coffee". I don't know about you, but I personally don't agree with swapping Keto coffee for Keto diet.
That "crazy Keto commitment" is what brought the first spotlight on the benefits of Keto diet in 1921. Unless you have a medical condition making it harder to follow the actual diet, please don't attempt to take this coffee as an alternative to Keto diet. Even then, please make sure to consult with your doctor and dietician to see if this can be taken
Frequently Asked Questions (FAQ)
Can you drink It works Keto Coffee when you're breastfeeding?
Please consult with your physician first if you're pregnant, planning to get pregnant or breastfeeding.
How much does It Works Keto Coffee cost?
The current price is $39.99 for a packet of 15 servings packets.
What are the side effects of It works Keto Coffee?
There haven't been any widely reported side effects, yet. Please feel free to let us know in the comments if you've experienced any.
How often can you drink it?
According to 'It Works', you can drink their Keto coffee anytime you want. However, that can seriously mess up your daily calorie and macronutrient requirements if you have more than 2 servings a day. How often you can have it depends on how many calories and macronutrients you're eating every day.
Your Takeaway
For $39.99 a packet, you'll get 15 serving packets of It works keto coffee. So I'd only recommend this for work and travel purposes.
The ingredients in It works coffee actually sound more convincing to promote Ketosis than Exogenous Ketones.
Treat it as an addition to Keto diet, not a replacement.
Keto diet normally calls for no more than 20g of Carbs per day. This coffee has 3g per serving and regular bulletproof coffee has close to zero.
Regular bulletproof coffee has more fat than It works keto coffee.
READ ALSO: Keto flu Causes and Remedies
Have you tried the It Works Keto Coffee?
Share your experience with us in the comments below.
You might like these articles about skin care and moisturizers:
Best Moisturizers for Combination Skin
Best Moisturizers for Sensitive Skin
Best Body Moisturizers For Your Dry Skin