Do you wish you had more confidence when it came to online flirting, or flirting in general? This article will show you tips and tricks for intriguing the girls you chat with on WhatsApp, making yourself appear both irresistible and charming.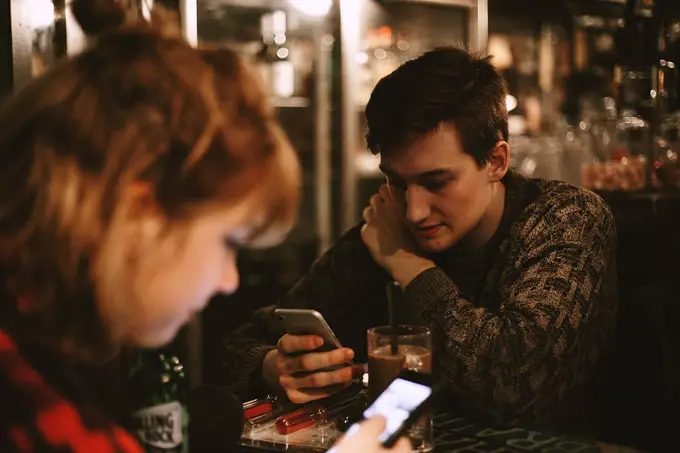 Texting through apps can be a good way to get to know someone who you think you might have a lot in common with. There is an exciting element to texting that is not as evident during phone calls or coffee dates; the mystery can be enthralling.
Learning how to flirt and engage over text is a must in our moder society. Texting is one of the most used forms of communication in this day and age, and because it is nonverbal, it is important to learn how to properly convey your message so that it is easily understood. The lack of vocal tones and inflections means we must rely on our words to convey meaning when texting, and therefore, we must choose our words carefully.
If you're ready to learn how to win over most any girl through textual flirting and conversation, read on.
Texts With Purpose
Don't go full-on Machiavellian, but some strategy is necessary when you're trying to woo a lady through a medium like WhatsApp. Some planning will help with your timing and delivery, allowing you to create the vibe you desire. You might want to avoid saying anything that pops up in your mind, choosing to plan your words with charm and intention.
Most women will tell you that overly aggressive, sexual messages are rarely appreciated. If a woman wants to be spoken to in a vulgar manner, which is a lot less often than you might think, she will likely initiate that conversation. Try getting to know her and her hobbies and passions; showing interest in the woman you'd like to get to know is far more seductive than aggressive, dirty texts.
It would also appear that the early evening is a more appropriate, welcomed time for chatting. She might not be relaxed enough by 5 p.m. to be ready for a texting excursion, and anything after 9 p.m. is likely to seem like a booty call.
Laughter is the Best Medicine
Of all the qualities that women seek in a partner, a sense of humor seems to make almost every woman's list. If you can make a woman truly laugh, you are a few steps ahead of many of her prospective partners.
Keeping things light and fun will put her at ease and allow her to see your true personality without getting too heavy, too soon. Sometimes light teasing can be a turn on, or even a touch of sarcasm.
Talk about exciting, funny situations you've found yourself in, or something hilarious that happened to you. Sometimes, even a funny video or meme is worth sharing. When you've shared a few laughs with someone, it creates a connection with potential that can be further explored.
Step Up Your Game
While you want your flirting game to be on point, remember that overly sexual flirtation should not be practiced until you are in a relationship, or both open and comfortable with that type of communication. If unwelcome, sexting can take away your chances with this girl faster than any other mistake.
Subtlety is key here. You want to show interested and express attention toward her, without making her feel uncomfortable. It's ok to let her know that you find her attractive or interesting, but don't overdo it.
Dating can be thought of less as a display of people wanting a chase, but rather a dance, wherein both people take turns leading. In other words, you want to mirror her, and follow her lead. If she turns the conversation in one direction, go along with it. Make her feel comfortable and able to open up.
Don't Be Desperate
Being clingy and desperate is another surefire way to drive someone away. Everyone wants to feel needed and loved, however, no one seems to like someone behaving in an overly attached, codependent manner. Relationships should foster independence while appreciating the time that the other person is willing to share with you.
Dating isn't about playing games, but it's ok if every text is not answered immediately. Being a little mysterious, or making her wait just a bit, will likely make you appear slightly more intriguing and like more of a catch; you're sometimes too busy being social or having fun to respond immediately.
Just be sure you don't turn into a flake, or leave her hanging for too long. If you find her interesting, chances are, other guys do as well, and perhaps they're more willing to be attentive and curious.
Display Confidence
There is a fine line between confidence and arrogance, especially when you're talking through an app like WhatsApp; but confidence is a quality that most people seek in a partner. Without being a jerk, show that you are accepting of yourself and proud of who you are and what you've accomplished.
Make sure that the conversation isn't all about you, however. Be genuine, and take the time to ask her about her personality, likes, dislikes, achievements and goals.
Don't be afraid to be yourself, and have your own opinion, even if it differs from hers. You're more likely to come across as a pushover if you agree with everything she says, and you'll appear hostile if you argue with her every word. Find the balance here.
Don't Overdo It
Experts say that shorter text messages allow you to retain an air of mystery. Evidently, long-winded messages can get boring after time. Another tip is to use her name from time to time, it shows that you are personally interested in her.
It's ok if you aren't always available, after all, you do have a life. You don't want to risk ghosting her, but you don't have to chat with her every single day either. Giving yourself a little break will give her time to think about you and potentially miss your conversations. Just make sure you don't stay silent for too long, or she's likely to move on.
These tips and tricks will help you flirt effectively, when used correctly. It's impossible for every girl you chat with to be "the one," but if you follow this guide, you'll find that when the one does come along, you will be better prepared to win her over.
Click Here: Advanced Attraction and Dating Guide